Guns are a great investment that can provide you with decades of enjoyment and reliable service, as long as you properly care for them. Getting the most out of your guns starts with finding the best gun cleaning kits. A good kit will have all you need to keep your firearms internal parts clean and ready for use.
Top 6 Best Gun Cleaning Kits Available Today
Improperly caring for your guns can result in them losing value or worse, failing to perform when you need them most, which is why you need a quality gun cleaning kit. We have made this task easy by breaking down our top 6 gun cleaning kits. Whether you just bought your first firearm or have accumulated a respectable collection, our list has an option for you.
Things To Consider When Buying A Gun Cleaning Kit
My old Sergeant used to always tell me that guns have two natural enemies: rust and politicians. While I can't help you a whole lot with that second one, I can definitely help you keep your guns safe from rust by giving you a few tips to follow when choosing your cleaning kit.
Choosing the right kit involves a few key factors:
The first is making sure that it is compatible with your gun.
The second is that it should include the necessary accessories to care for your gun.
The last factor that you should consider is whether or not you want a portable kit or not.
Gun Compatibility & Caliber Sizes
As with ammo, magazines, or any other accessory component, you've got to make sure that the kit you buy is made for the gun you are trying to clean. It is vital that the kit not only includes brushes for your gun's caliber but that it also includes long enough barrel rods or cables. That second part generally only comes into play with long guns as any guide rod will be long enough for handgun barrels.
Using a brush or mop that is the wrong caliber can be bad news for your gun. If you use a brush that is smaller than your gun's barrel, then it will not properly clean it. While this probably won't affect your gun much after a single range trip, repeated improper cleanings with a brush that is too small can lead to undue wear on your barrel and allow carbon deposits to form.
On the other hand, cleaning your gun with a barrel brush that is for a larger caliber gun can cause immediate damage.
For example, let's say that you tried cleaning your 9mm pistol with a .40 caliber brass brush. If the brush doesn't get stuck in your barrel, which is a good possibility, the extra force that you are going to have to use to push the oversized brush through the barrel could damage the rifling of your barrel.
The best way to avoid these issues is to buy a universal cleaning kit. If you only have handguns, then a kit that includes all the common handgun calibers is an easy route. Many companies also sell single caliber replacement mops or brushes once you wear down a particular brush size.
Accessories
Universal gun cleaning kits don't have high part counts just because they include brushes for multiple calibers, even though that is part of the reason. Many of the kits on our list include additional cleaning tools because caring for your gun involves more than just running a brush through the barrel. It is important that your kit includes jag, mops, and cleaning cloths.
Portability
Once you have made sure that the kit you are eyeing includes the appropriately sized brushes and parts for your gun or guns, then you should consider whether or not you want a portable gun cleaning kit. Personally, I like cleaning my guns at the kitchen table with a two-finger pour of bourbon on the rocks in arm's reach. I mean come on, what is more American than that.
Understandably, some shooters much prefer to clean all their guns while they are at the range. Going this route allows you to have everything ready to be stored and put away when you get home. It also keeps you from making a mess of your kitchen if your significant other is less understanding than mine. I must admit that I have ruined a few table cloths until I broke down and bought a cleaning mat like this one from GLORYFIRE.
Whether you opt for a portable kit or not is purely a matter of preference as long as the kit has the necessary items for your collection. It is important that you buy the kit that you are going to use. If cleaning your guns before you leave the range works best for you, do it. If you want to try it my way, I just ask that you make sure your ammo is put away and that you don't ruin good bourbon with a mixer.
Anatomy of a Gun Cleaning Kit
There are certain items that are vital parts of a complete gun cleaning kit. Buying a kit that is missing a few key items is frustrating and will leave you needing to either purchase the missing items individually or purchase a whole new kit, depending on how much is missing.
Certain items, like cleaning patches and gun oil, will need to be replaced far more frequently than your cleaning kit itself and are very easy to find as standalone items or in restock kits.
Here is a list of essential items you will need to restock up with: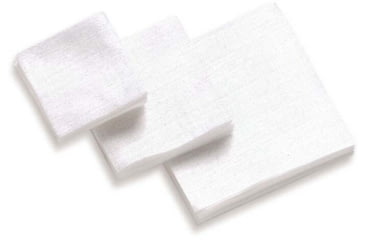 How to Properly Clean a Gun
You would be shocked to know just how many shooters have never been taught how to properly clean their firearms. When doing any work on your firearms, the first step is to make sure that the magazine has been ejected and that the chamber is empty. Once this is complete, disassemble or field strip, your gun so that you can access its inner workings.
Complete disassembly is not necessary, you just need to be able to get to the main internal parts. Field stripping will be more or less involved for different types and brands of firearms. Most manufactures include detailed instructions for disassembling your firearm in the manual. If you don't have one, then you can find tons of video guides online, usually, at least one of which is produced directly by the manufacturer.
Once you have your firearm sufficiently stripped down, you should apply cleaning solvent to the internal parts and to the barrel itself. You should then push the barrel brush down the barrel of your gun from breach to muzzle or from front to rear. Never start at the muzzle of your barrel as this can damage the rifling. Shotguns are more forgiving since they are smooth-bored weapons, but it's best to continue this habit with all your guns.
If you have a mop attachment for your guide rod, then use that to remove excess solvent from your barrel. If not, then use a cleaning patch and the corresponding jag size to do so. You should repeat this process until the cleaning patch comes out clean. Afterward, clean all of the exposed internal parts with cleaning patches.
After all of the solvent and build-up is gone, apply oil in the appropriate locations on your firearm. Again, this will vary based on the style of firearm you are cleaning and the manufactures recommendations. A dry gun is susceptible to rust, so don't be afraid to be generous with the gun oil.
Your gun shouldn't look like it just blew a gasket when you rack it, but the high-friction internal parts should be a little wet to the touch. The last step is to reassemble your firearm and perform a function test. Wipe away any excess oil that may have seeped onto the exterior of your gun and you are good to go.
What Is the Best Gun Cleaning Kit?
While all of the cleaning kits on our list are great options for a variety of different applications, one kit stood out above the rest in terms of quality of versatility. The Otis Elite gun cleaning kit – This do it all gun cleaning kit will last you a lifetime, which is why it was a lock for our top spot.