At a Glance: Best Reloading Tumblers
Comparison of the Best Reloading Tumblers
PRODUCT
DETAILS

Our Top Pick

Frankford Arsenal – Platinum Series Rotary Tumbler 7L

Large case capacity of 7 liters
Thoroughly cleans inside and outside of cases
Includes 5 pounds of stainless steel media
Quiet machine thanks to the dual-layer drum

View Latest Price

Our Top Pick

Lyman – Cyclone Rotary Tumbler

Spotlessly cleans inside and outside of cases
Fast rotation speed and cleaning time
Large capacity
Rubber lined with strong bearings for quiet operation

View Latest Price
Frankford Arsenal – Platinum Series Wet/Dry Media Separator

Can be used with wet or dry media
Ambidextrous use for both right and left-handed users
Easy to use thanks to its many great features
Spill-proof tub

View Latest Price
Guide To The Best Reloading Tumblers
There are many benefits to reloading your ammunition. Not only does it promise better accuracy, but it can also be a fun hobby. Moreover, reloading gives you the power to customize your cases to exactly how you want them to perform with your gun. If you're lucky, you might even save a buck or two.
One piece of equipment that is worth investing in is a brass tumbler. If you want to achieve the maximum benefits of reloading then you'll want not just any tumbler, but the best reloading tumbler that you can find. However, it can be difficult to know which tumblers are best for the job, especially if you're new to reloading and are unsure of how tumblers work.
I have reviewed the top 7 tumblers to help you choose the best reloading tumbler for your needs. For each tumbler, I have listed the pros and cons of each, allowing you to make your own decision.
Frankford Arsenal – Platinum Series Rotary Tumbler 7L
The platinum series rotary tumbler works uniquely well, using a wet cleaning method to clean the cases. By using a detergent and water solution it cleans brass on a much deeper level and is quicker than vibratory tumbling. This liquid solution doesn't just thoroughly clean the outsides of your cases, but also the insides and primer pockets. Vibrating tumblers may not get in the primer pocket as well as this.
This tumbler has a large case capacity. It can hold up to 7 liters and can clean 1000 .223 cases in one cycle. Other than the high capacity, the platinum series tumbler has some great features such as a timer that can be set to run from 0 to 3 hours.
It was one of the quietest machines I reviewed, thanks to its rubber-lined dual-layer drum which protects the brass and dampens noise during operation.
The only negative I found is that many steel pins fall on the floor when it's in use and these are not the easiest to pick up. Therefore, I would highly suggest having a pick-up magnet nearby.
Overall, if you're interested in a wet rotary tumbler that thoroughly cleans, this may well be the best reloading tumbler for you.
Pros
Large case capacity of 7 liters
Thoroughly cleans inside and outside of cases
Includes 5 pounds of stainless steel media
Quiet machine thanks to the dual-layer drum
Includes a timer
Cons
One of the most expensive tumblers
Steel pins can spill out and are difficult to pick up
Lyman – Cyclone Rotary Tumbler
Lyman's cyclone rotary tumbler is one of the fastest and quietest tumblers on the market. The rubber-lined tumbler and strong bearings keep the noise down during operation, making it a great choice for those living in small spaces.
The cyclone tumbler's rotary tumbling action uses stainless steel media and a liquid cleaning solution to clean brass much more thoroughly than vibratory tumbling methods. It's not just the outsides of cases that receive a spotless clean. The small stainless pins easily slip inside cases as well as primer pockets, giving a superior cleaning action to these areas too.
Like the Frankford Arsenal platinum tumbler, the Cyclone features a three-hour timer. The rotation speed is very fast. It only took 1 hour for my cases to be thoroughly cleaned with this machine. Additionally, the tumbler can hold up to 1000 pieces of .223 brass.
This tumbler appears to be a very solid and well-built machine. There are many great reasons to opt for the cyclone – durability, speed, and quietness. To sum up, this is a great tumbler that gives you extremely clean brass in a short time without much noise or dust.
Pros
Spotlessly cleans inside and outside of cases
Fast rotation speed and cleaning time
Large capacity
Rubber lined with strong bearings for quiet operation
Sturdy and durable
Built-in timer feature
5 lb bag of stainless steel media included
Cons
The lid can be a bit difficult to seal fully so there is some danger of leaking
One of the most expensive options
Frankford Arsenal – Platinum Series Wet/Dry Media Separator
This tumbler by Frankford Arsenal is a great option for both wet and dry cleaning. It is specifically designed to deal with the water and pins of wet tumbling as well as the dust and media of vibratory tumbling. What I love about this machine are the many great features it has.
This separator includes two sifting handles for both right and left-hand users. There are 2 strainers installed to separate wet media from water and a perforated sifter allowing media to fall through while catching the cleaned brass. The water then drains down to the bottom sifter while the media is cleverly retained to be reused. The spill-proof tub fully captures water, dry media, and stainless steel pins.
The tub top includes a mesh strainer to rinse brass and remove any leftover cleaning solution. It also features a rugged rubber latch that keeps the sifter closed and stops dust or water from getting out, even with heavy loads.
All these excellent features allow you to quickly and easily clean your cases with great accuracy. This wet/dry separator is also a low-cost option, making this machine excellent value for money.
Pros
Can be used with wet or dry media
Ambidextrous use for both right and left-handed users
Easy to use thanks to its many great features
Spill-proof tub
Awesome value for money
Cons
Rubber latch can be difficult to open and close
It's a bit flimsy and does not rate high in terms of sturdiness
Lyman – 1200 Pro Tumbler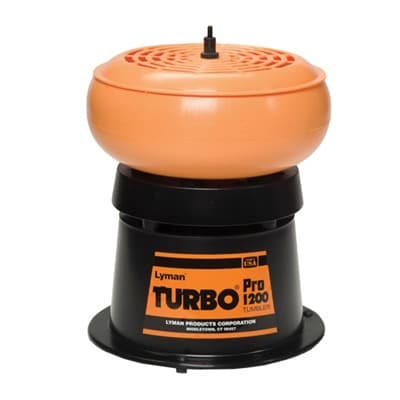 The pro tumbler by Lyman is the quietest vibrating tumbler that I reviewed. It creates far less noise than many competing machines. It comes with a built-in sifter lid which helps you easily separate your media from the brass cases for an easier load.
This vibrating tumbler can clean all types of cartridges and hold up to 2 lbs of media, cleaning up to 350 .223 cases at once. This is a good capacity for small calibers, but not so much for larger ones.
Since the lid is a sifter, some media will jump out during operation because of the vibration, and my workspace got pretty dusty when testing this product. It also does not have an on/off switch so you have to make sure that all your dirty cases are already inside the tumbler before you plug it in.
The best aspects of this tumbler are its durability and the price. It's designed for heavy-duty work so its components are durable. As a basic tumbler with minimal features, it's one of the cheaper products on the market. Whilst it may not be the best reloading tumbler for experienced shooters with large loads to clean, it's certainly a smart choice for a beginner, as well as reloaders concerned with noise.
Pros
Very quiet
Built-in sifter lid
Durable
Easy to use
Low price
Cons
Can cause a lot of mess on your workspace
Not the best capacity for high calibers
No on/off switch
Lyman – 2500 Pro Magnum Case Tumbler
The pro magnum case tumbler is a top choice for high-volume reloaders. Its 2-gallon capacity bowl handles up to 1000 .38 special cases at a time. The bowl is specially designed for powerful cleaning even when loaded to full capacity.
The advanced drive system delivers fast cleaning and durability, resulting in a product that cleans effectively for years. I was pleasantly surprised by the lack of noise it created. Whilst not the quietest machine on the list, the noise level is still low enough to be able to have a conversation in the same room whilst it's running.
I would rate this tumbler the highest out of all the products in terms of capacity as well as a good choice for durability. The price is pretty standard, not the cheapest but not the most expensive either.
Pros
High capacity
Powerful cleaning process
Low noise
Features an on/off switch
Cons
The material of the bowl feels a bit thin
No timer feature
RCBS – Rotary Case Cleaner
The rotary case cleaner from RCBS uses a rotating tumbling action to scrub clean all parts of your cartridge cases. The RCBS rotary case cleaner cleans brass in a much gentler way than most traditional vibrating tumblers. This gentle tumbling action results in less noise and reduced wear and tear on your cases.
The tumbler has been built with a high quality smooth, belt-driven motor that rotates the drum at a steady 60 RPM. This ensures consistent thorough cleaning and reliability.
Furthermore, this product has some great features. These include a timer that allows you to set your cleaning for up to three hours, a quick-locking snap-on lid to prevent leakage, and an easy-to-grasp ergonomic handle, making loading and unloading easier.
It also has a rubber-lined drum to reduce operational noise however, I still found it to be one of the noisier tumblers I reviewed. This was the only downside I found. Other than a bit of noise, the RCBS rotary tumbler is a great option and could easily be the best reloading tumbler for many reloaders.
Pros
Gentle cleaning action – less wear and tear on cases
Built-in timer
A snap-on lid preventing leaks
Comes with 5 lbs. of stainless steel media
Durable and sturdy design
Cons
Despite having a rubber-lined drum, it is still quite noisy
Quite expensive
Frankford Arsenal – Quick-n-EZ Case Tumbler 220v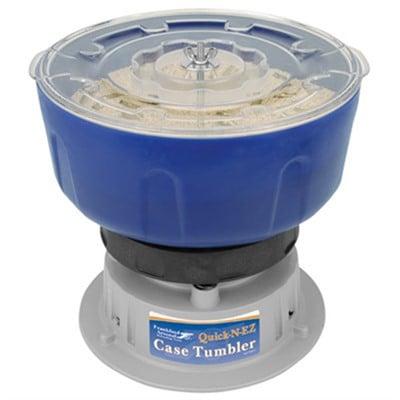 The Quick-n-EZ case tumbler from Frankford Arsenal certainly seems to be a popular choice for reloaders, and for good reason. The unique bowl design ensures thorough cleaning and it is extremely easy to use. In fact, this tumbler is one of the easiest pieces of reloading equipment to use that I've tried. All you have to do is fill 2/3 of the bowl with media, add your brass cases and turn the machine on. As simple as that!
The clear glass top prevents the media from falling out of the unit, and there is an on/off switch on the power cord, which is a nice feature as it gives you more control. At a fraction of the price of most other tumblers, it's excellent value for money.
The capacity is not the best. It can clean up to 600 9-mm cases in around 3 hours but if you use a higher caliber, the capacity will be lower. For example, it can hold 350 .223 casings.
Another downside I found was the material of the bowl. It's made from thin plastic which does not feel very durable. Therefore, I'm not sure how long this tumbler would last, however, at such a low price, this is not a huge concern. This would be a great choice for a beginner or someone looking for a low-price tumbler to get started.
Pros
Very affordable
Easy to use
Cleans thoroughly
On/off switch on the power cord
Cons
Low capacity for large calibers
Not very durable
Cannot be used with liquid media
Reloading Tumblers: What and How They Work
A reloading tumbler is a simple but crucial device for reloading ammunition. Tumblers clean your used cases enabling them to be reloaded and reused again. The great thing about reloading tumblers is the number of cases you can clean. These machines allow you to clean hundreds of cases in one go, in the space of a few hours.
How Reloading Tumblers Work
The machine does all the work for you. All you need to do is put the media in along with your brass cases, switch it on, then sit back and wait 2-3 hours for your old cases to become shiny and new again.
You can use either liquid (wet) or dry media to clean your cases. Your tumbler will either be a rotary tumbler or a vibratory one. Both types are very efficient ways to clean brass cases but work in different ways.
Rotary Tumblers:
A rotary tumbler has a barrel that you load and place on the machine.
The machine turns the barrel and the casings tumble inside with the wet or dry cleaning media.
Vibratory Tumblers:
A vibrating tumbler has a bowl that holds the dry media and cases.
The machine vibrates rapidly and those vibrations create friction between the media and the brass, which buffs the casings clean.
What Is Better: Dry Tumbling Or Wet Tumbling?
Vibrating tumblers only allow dry tumbling (dry media usage) however, rotary tumblers allow both dry and wet case tumbling (dry or liquid media usage). There are pros and cons to both types of tumbling. Whilst wet tumbling gives a deeper clean, leaves cases shinier and generally creates less mess, rotary tumblers for wet tumbling are quite expensive. On the other hand, dry tumbling does not clean the cases as thoroughly and can create a lot of dust, but it is a much cheaper method of brass cleaning.
Dry Tumbling
Pros
Dry vibrating tumblers are cheaper than rotary ones
No need for drying
Cons
Creates a lot of dust
Does not clean the inside of cases as well as wet tumblers
Wet Tumbling
Pros
Gives a deeper clean and gets into the insides and primer pockets also
Leaves cases shiny and like new
Does not create dust
Cons
Rotary tumblers allowing wet tumbling are expensive
Drying time is required
Vibratory Tumblers Vs Rotary Tumblers
Vibratory tumblers:
A traditional dry cleaning method
Can only be used with dry media
Vibration tumblers are much cheaper than rotary ones
Very easy to use
A good method for cleaning the grit and dirt off cases as well as polishing them
A good option for beginners
Rotary tumblers:
A more modern style of cleaning
Can be used with liquid media (stainless steel pins)
It works by dropping small pins of stainless steel into the tumbler
Cleans the inside of cases as well as the outside giving a deeper clean
Is great for giving that shiny polished look
A good choice for serious reloaders
Much more expensive than vibratory tumblers
Guide To Choosing The Best Reloading Tumbler
I have watched a number of my fellow club shooters experiencing feed problems with their reloaded ammunition, especially with semi-autos. My first question is always: do you clean your cases before reloading? Too often, the answer is no.
When fired, cases experience very high temperatures and lots of residual powder, soot, etc. Oil on the firearm may also burn itself onto the case during firing. These contaminants will attach themselves to the outside of the case, and if not removed, have the potential to transfer to the reloading dies, causing problems with the reloading process, and eventually to various parts of the firearm causing feed/extraction problems. So, please clean your cases. The best and most efficient way is in a case tumbler (Figure 1).
What is A Case Tumbler Exactly?
A case tumbler is a simple vibrating bowl filled with mildly abrasive media, usually crushed walnut shells or corn husks. The choice of media is up to you and often dictated by what your local gun store has available.
Case tumblers are relatively cheap and media costs $1-3/pound, depending on the specific type. The amount of media you need depends on the size of the tumbler, but generally, 2 pounds is enough. Walnut shell media is generally used for dirty cases and the corn husk media for a final polish if you want really nice-looking brass. Some manufacturers also sell polishing fluid which can be added to the tumbling media for an enhanced shine. I find the walnut shell media is adequate.
Do not use normal household brass cleaning fluids as these often contain corrosive materials which will weaken the case walls and shorten the service life of your cases.
Separating the cases from the media can be accomplished using a purpose-built rotating cage separator.  If you are separating multiple caliber cases, there are sorting trays available that have varying size holes which catch the larger cases in the top trays, and allow smaller cases to fall through to the next tray, etc. Personally, I use a plastic tray (Figure 2) made from an old plant tray I got from a plant nursery, attached to the top of simple plastic box from the local dollar store.
Choosing The Best Brass Cleaning Media
Three main types of media can be used in tumblers for cleaning brass. Corn cob and walnut are both dry media whereas stainless steel pins are used in liquid media.
Corn cob can be used for both vibratory and rotary tumblers.
This is the mildest media.
It's good to use with once-fired brass as this type of brass is not very tarnished so a mild cleaning media is appropriate.
You can purchase a treated corn cob media which has an extra polishing compound in it. This makes your brass come out extra shiny.
Walnut shell is a stronger media than corn cob and gives a more aggressive clean and polish.
Like corn cob, you can get treated versions of walnut shell for more shine. Adding polish to untreated walnut shell also works.
Walnut shell can be used in both rotary and vibrating tumblers but I've found it works best with vibrating tumblers.
Stainless Steel Pins
Stainless steel pins are the most popular media for wet tumbling.
As media for wet tumbling, they can only be used in rotary tumblers.
With stainless steel pins, you need to use water and liquid dish cleaner to polish the brass.
Stainless pin media is the best media for a thorough cleaning as it cleans both the inside and the primer pockets.
This media also makes the cleaning process faster and creates less mess.
Another great thing is that the pins will last you forever so you don't have to buy new ones for each cleaning job.
Key Reloading Safety Tips For Beginners
There are some safety risks involved with reloading so if you're new to the process here's some key advice for staying safe. Be sure to read our Beginner's Guide to Reloading Ammo
Wear protection
Firstly it's vital to wear protection whilst reloading, even if you're experienced. Reloading can expose you to several hazardous materials and compounds including lead, therefore, it's essential to have proper protective gear. I would recommend the following:
Good quality safety glasses/goggles (similar to the type you would wear while on a gun range)
Safety gloves
A dust mask
Other safety tips:
Always use a reloading scale for accurate powder loads
Do not rush the process
Stay alert and focused
Cover equipment and store it safely when not in use to prevent hazards
Keep your brass casings in airtight containers in cool areas (to protect from humidity)
Clean surfaces after working to eliminate residual dust lead
Wipe or mop the floor under your workbench after every use to ensure no lead gets into the air
Don't place your workbench directly on a carpet as the fibers can easily absorb lead dust
So, what's the best reloading tumbler on the market?
I was impressed with many of the tumblers on this list but the machine that stood out to me the most was the Frankford Arsenal platinum series rotary tumbler. This tumbler won me over to wet tumbling and I was so impressed with the thoroughness of cleaning that it's capable of. From testing both wet and dry tumblers, I feel the rotary tumblers and their wet tumbling process produce the best cleaning results for both the inside and outside of cases. I was also happy with the durability of this machine so it ticked all the right boxes for me.
The Frankford Arsenal platinum series rotary tumbler is an expensive machine and I am well aware that many reloaders are looking for a cheaper option that works just as well. For value for money and ease of use, I would go for the Frankford Arsenal Quick-n-EZ Case Tumbler. While it's not the most durable or of the highest capacity, if I were new to reloading this would be the best reloading tumbler for my needs.
All the tumblers on this list are high-quality options and as always, I would advise you to consider your personal usage needs when looking to purchase a new tumbler.