At a Glance: Best AR-15 Triggers
Comparison of The Best AR-15 Triggers
PRODUCT
DETAILS

Our Top Pick

Geissele Automatics Enhanced Triggers

Two-Stage or single-stage
Style: Drop-In trigger
Pull Weight: 2.3lbs, 3.2lbs, or 4lbs

View Latest Price

Our Top Pick

CMC Triggers Tactical Trigger Group

Single-stage
Style: Drop-In
Pull Weight: 2.5-lb to 6-lb

View Latest Price

Our Top Pick

American Trigger AR-15 Gold Curved Trigger

Two-stage
Style: Drop-in trigger
Pull weight: 3.5 lb.

View Latest Price
The AR-15 platform is infinitely buildable, and you can put one together to fit your exact requirements. One of the most important AR-15 parts to consider is the trigger, as it's the most precise part of the rifle that you interact with. Here's what to consider when choosing the best AR-15 triggers for your rifle build.
Best AR-15 Triggers Review 2022
There are hundreds of AR-15 triggers and trigger groups on the market today. Thanks to precision engineering, these triggers deliver a cleaner break and better ergonomics than most stock designs. Whether you're looking for a clean MIL-SPEC trigger or a light three-pound break, here are the best AR-15 triggers on the market today.
Geissele Automatics Enhanced Triggers
Here's a traditionally-shaped trigger with advanced machining and a smooth, crisp break. The Geissele Automatics Enhanced Trigger comes in two variations that are ideal for most performance rifle builds, Geissele B-G2S-E and B-GRF (Geissele Rapid Fire).
Geissele B-G2S-E Two-Stage  Trigger
The Geissele B-G2S-E is a two-stage trigger with a precise design to allow for a clean break and smooth resets. Two-stage triggers are an excellent choice for the field, as they allow you to set the trigger when you line up on the target and squeeze through when your aim is optimal. The trigger itself was designed for US Special Operations forces, and it has been well-received amongst shooters from all backgrounds. Aesthetically, it looks no different from a MIL-SPEC trigger group. But internally, this light and fast trigger is far superior for rapid-fire.
A trigger like this could be the key to achieving sub-MOA performance at greater distances where the smallest movements make a difference. Has an initial break force of 2.3 lbs and a second-stage break force of 1.2 lbs, giving it an ultralight trigger pull. This clean and light trigger pull helps improve accuracy.
Geissele Rapid Fire B-GRF Single Stage Trigger
The Geissele Rapid Fire B-GRF pulls like a single-stage, but resets like a two-stage. Geissele designed this trigger to have a quick and even break and a rapid reset, allowing you to actuate it fast. It is a fast-shooting, smooth trigger ideal for Gun competition and recreational shooting. There are two trigger springs included, so you can set it with a pull of either 4 lbs or 3.2 lbs.
Pros
Both triggers a machined to precise standards
Both triggers offer drop-in performance
B-GRF has adjustable brake force
B-G2S-E is a dual-stage trigger
B-GRF was designed for US Special Forces
B-G2S-E has a 1.2-lb second stage
Cons
B-G2S-E may be too light for some people
Basic MIL-SPEC appearance isn't ideal for some rifle builds
Geissele Super Dynamic Enhanced Trigger SD-E
Upon opening the package, the first thing that caught my eye about the SD-E trigger was the flat trigger bow. Personally, I had never seen anything like it before. The completely flat trigger face and the aggressive angle of the rear of the trigger gave the Geissele SD-E an aesthetic appeal for me. It was something different to set my rifle a part from others.
FEATURES
Trigger Shape: Tactical Flat
Trigger Pull Weight: 3.5 lb
Trigger Pin Size: Mil-Spec
Hand: Ambidextrous
Secondly, I noticed the finish. It appeared to be flawless and was a deep, dark and glossy black color. Then I noticed the shape of the hammer. It was thinner and smaller than a normal AR-15 hammer. I suppose I might as well just describe the rest of the details and features of this trigger system, shouldn't I?
A Geissele Super Dynamic– Enhanced (SD-E) trigger is essentially the same trigger as a Geissele Super Semi Auto – Enhanced (SSA-E) trigger; the only difference is the physical appearance. Instead of a M4 bow, or curved trigger shape, the "Super Dynamic" series of Geissele triggers has a completely flat trigger face. When I spoke with the owner (and inventor) at Geissele Automatics, Mr. William Geissele, he stated "there are other small differences between the SD and the M4 bow style triggers, but for all practical purposes they are the same."
The SD-E is a two stage trigger, so I know exactly when the trigger is going to release the hammer, and I decide when it does. My Geissele SD-E trigger also came accompanied with a Geissele designed AR-15 hammer. This hammer was noticeably thinner, lighter, and smaller than a typical "mil-spec" hammer. To quote Mr. Geissele again, "each Geissele hammer has been designed to strike the firing pin in the 'sweet spot' much like one would find on a golf club face when hitting a golf ball." When shooting my AR-15, the hammer did reset noticeably faster than my previous mil-spec hammer. This allowed me to shoot quickly, despite the fact that the SD-E is a two stage trigger.
Pros
reset is fast and tactile with crisp break
Full Power Hammer Spring
consistant pull weights
Cons
Some users feel it is cheap
Not light enough for a enhanced
Schmid Tool & Engineering Nickel Teflon Trigger
Teflon is one of the best AR-15 trigger materials with seemingly endless firearms-related uses. This anti-stick coating works especially well on triggers such as the Schmid Tool & Engineering Nickel Teflon Trigger system.
The Schmid Tool & Engineering Nickel Teflon trigger group is a popular upgrade for service-style rifles. It's simple, reliable, and well-liked amongst AR-15 builders from all backgrounds. To put it simply, the Schmid Tool & Engineering trigger works—and it works well.
FEATURES
Single stage
Teflon-coated
Hammer and springs included
Pins not included
Fits most standard AR-style receivers
Fundamentally, the Schmid Tool & Engineering trigger is a standard MIL-SPEC trigger. The advantage of the MIL-SPEC design is that it works, and almost everybody already knows how to use it well. There are no surprises like an ultralight trigger pull or a second stage, which is great for new shooters and basic utility rifles.
So, how does the Schmid Tool & Engineering trigger differ from any other standard AR-15 trigger sets? The answer is simple—Teflon. Teflon itself, along with superior build quality, reduces the risk of failure and keeps the trigger pull clean and crisp under all conditions.
Teflon is a nonstick material, which means that dirt, grease, and grime will not affect your rifle's performance as severely as a word when using a normal trigger. Furthermore, the trigger utilizes nickel, which prevents rust and makes cleaning easier.
This trigger is one of the best AR-15 triggers for people who prefer a MIL-SPEC trigger group but want to upgrade their original system. With this trigger, you can enjoy the same characteristics that you're used to with the additional protection of Teflon coating. Additionally, the Schmid Tool & Engineering Trigger system is made in the USA.
Pros
Teflon coating reduces grime buildup
Nickel prevents rust
Familiar and crisp MIL-SPEC trigger system
Hammer included
Cons
Does not include all trigger hardware
Trigger pull is identical to standard MIL-SPEC triggers
American Trigger AR-15 Gold Curved Trigger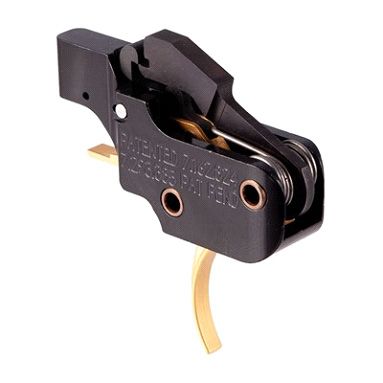 Here's an all in one drop in trigger group produced by American Trigger Corporation that's ideal for those looking for a light and crisp trigger pull. Unlike some of the other triggers on this list, the Gold Trigger it's easy to install and includes just about everything you need right out of the box.
This is a two-stage trigger design to let you set the trigger before taking the shot, which keeps your gun still for maximum accuracy. Two-stage triggers like the American Trigger Corporation Gold Trigger, or especially popular with competition and match shooting. In fact, many people consider a two-stage trigger a necessity for long range accuracy.
FEATURES
Pull weight3.5 lb.
Drop-in trigger group
Two-stage functionality
Fits most AR-15 receivers
This trigger features an exceptionally short reset, which is ideal for quick follow up shots when small variations and accuracy are unacceptable. The hammer is specifically designed to catch the sear far from any pivot point, which lightens the trigger pull and may enhance safety.
Functionally, this trigger system uses a sear and hammer, similar to what you find on an M1 Garand. It also includes an independent intercepting sear to catch the hammer if it slips off the primary sear. This feature increased safety and allows the primary sear to be much more precise.
The special sear and hammer included with this trigger also enhances drop safety, which is especially important during drills and other live-fire events. Precision triggers like the American Trigger Corporation Gold Trigger are one of the fastest and easiest ways to modify your rifle to improve your accuracy.
Overall the American Trigger Corporation Gold Trigger is one of the best two-stage drop-in AR-15 triggers available today. It's easy to install, lots of fun to use, and a logical upgrade if you intend to turn your rifle into a precision long-range firearm or competition gun.
Pros
Made in the USA
Easy drop-in installation
Self-contained trigger group
Precise two-stage control
Fast and short reset
Cons
3-lb trigger pull is heavier than some competitors
Non-adjustable
CMC Triggers Tactical Trigger Group
This tactical trigger group it's a professionally tuned drop-in trigger module that fits most standard AR-style receivers. The trigger itself was originally designed by Chip McCormick, a well-known competition shooter who wanted a fast, clean breaking-trigger to use in matches.
This tactical trigger group features a 2.5-lb trigger pull, which is light but not too light for most shooters. Most shooters will find that the CMC tactical trigger group pairs well with all kinds of rifles, both those designed for utility and competition use.
FEATURES
Pull Weight: 2.5-lb to 6-lb
Style: Single-stage trigger group
Designed by a competition shooter
Drop-in installation
The CMC tactical trigger group is a single-stage trigger, which does not need to be pulled very far to work. The shoe is broad, making it easy to exert a single, precise squeeze on the trigger when you're ready to send your shot downrange. A broad shoe is also useful if you're wearing gloves, as the thickness of the material discourages your glove from getting caught at any point.
However, using gloves with this trigger may be difficult, as its light pull makes it very easy to discharge the weapon. That said, a trained shooter should have a little difficulty mastering this clean, crisp, and precise trigger group.
Additional trigger shoes are also available for this model. These include a skeletonized flat shoe which some shooters prefer, or a more traditional curved shoe, which is similar to what you'd find on a typical MIL-SPEC trigger group.
Other than the look, nothing about this trigger group is MIL-SPEC. This is a precise trigger group that is an upgrade from what you find in the stock rifles.
Pros
Light 2.5-lb trigger pull
Multiple trigger shoe designs available
Easy drop-in installation
Oversized pins
Single-stage
Cons
Trigger pull is too light for some applications
Non-adjustable
Palmetto State Armory Custom Flat Trigger
Flat or square face triggers are a popular design on the market today. Palmetto State Armory now offers a custom Match Grade AR 3.5 lb single-stage trigger. The PSA trigger group is ideal for basic rifle builds where accuracy is key, and it's a sensible upgrade to your primary weapon system.
Upgrade your Mil-Spec factory AR-15 trigger and get a competition-grade quality with drop-in ease-of-installation, which is a major benefit for new rifle builders.
FEATURES
Trigger Type: Custom Flat Trigger Bow Design
Pull Weight: 3.5 lbs.
Pull Type: Single-Stage
Anti-Walk Pin Set included
PSA designed this custom trigger group for easy installation by utilizing a one-piece design. While not entirely unique to the market, many similar flat match-grade triggers come in multiple pieces, which needlessly increases the complexity of modifying your rifle.
One of the benefits of this trigger group is a set of specially designed anti-walk pin sets, which prevent the pins from coming loose or misaligned during shooting. Many shooters prefer the flat-shoe design, as it offers a more direct and engaging trigger pull. This is especially useful for match-grade rifles where a precise and confident trigger reset is necessary.
Match grade triggers like this one improve accuracy and offer a clean sear break, which is essential for steady long-range shooting.
Pros
One-piece self-contained trigger group
Match-grade 3.5-lb trigger pull
Not too light for beginners
Fast trigger reset
Very smooth and crisp
Cons
Too heavy for some competition builds
Flat-faced trigger may be uncomfortable for some shooters
Timney Triggers AR-15 Competition Trigger
The Timney Triggers AR-15 Competition Trigger is a match-grade upgrade for most standard AR-platform rifles. This is the ideal trigger if you're looking for a light, crisp, and confident trigger pull. This drop-in trigger group requires no gunsmithing, and it can be installed using a standard punch and tool kit.
But what makes the Timney trigger group different from the other drop-in trigger upgrades on this list? For one, the Timney trigger group is designed to work with factory pins, and absolutely no adjustment is required to install it. Some trigger groups may technically 'drop-in,' but they often require a bit of modification to work correctly.
FEATURES
Drop-in installation on all MIL-SPEC receivers
No gunsmithing or adjustment required
Complete trigger group with hammer and sear
Made for crisp, clean single-stage trigger pull
Additionally, the build quality and material selection of the Timney trigger is outstanding. The hammer is machined from high strength S7 tool steel, which is higher quality than many factory components. S7 tool steel is strong enough to prevent stress cracks and other wear from heavy use, making it ideal for utility and duty guns.
The Timney trigger is designed to fit standard MIL-SPEC AR-15 lower receivers, and it installs without trouble in the vast majority of rifles. It's designed to offer a crisp and clean break and resist dirt, grease, and gunk.
Another advantage of the Timney trigger is that it's available in numerous colors, configurations and with multiple trigger shoe options. You can opt for a gold housing, and a black flat trigger shoe, or a blue housing and a MIL-SPEC style curved trigger shoe. Some of these shoes may be more comfortable with an upgraded trigger guard.
Other options are also available, and you can pick and choose as you please. In total, 14 variations of the Timney trigger group are available. You can choose the variation of this crisp, lightweight trigger that fits your rifle build and philosophy of use.
Pros
Easy to install
Crisp single-stage trigger break
Fits all standard AR-15 receivers
Lifetime warranty
14 available variations
How to Choose the Best AR Triggers
So, how do you choose the best trigger for your AR-15? It's helpful to consider what you plan on using your rifle for. For example, a long, heavy barreled precision target rifle would benefit from a two-stage trigger. In contrast, a varmint gun that's designed to be used in the cold weather might benefit more from a heavy single-stage trigger.
It's also important to consider your skill level before choosing the best AR-15 trigger. Those with extensive gunsmithing experience have a wider selection to choose from. Today, you don't need any gunsmithing experience to install an air trigger group, as fully assembled drop-in trigger groups are available.
What To you look for when choosing a trigger?
There are a variety of factors that distinguish triggers, including pull weight, stage type, and trigger shoe shape. Here are some common distinctions between triggers and how to choose the best configuration for you.
The first thing to do when selecting the best AR-15 trigger group is to decide what kind of shooting you plan to do with it. Just because you don't compete in shooting matches doesn't mean you won't benefit from an upgraded trigger. A cleaner and crisper trigger pull can help you play shots more accurately and reliably in any situation.
The next thing to consider when choosing the best AR-15 trigger group is which type of trigger you want to install. There are multiple categories of our 15 to grab available today.
Here are the basic types of AR-15 triggers available today.
Single-stage triggers
Two-stage triggers
Binary triggers
MIL-SPEC triggers
In most cases, a crisp single-stage trigger is an excellent choice for basic and beginner rifle builds. It's also important to consider what shape and feel you're looking for, as numerous flat (square) and curved trigger shoes are available.
Third, make sure you understand pull weight! Pull weight is the most important factor to consider when choosing a trigger for a rifle. On average, the trigger pull weight of a typical AR-15 is between 4 and 6 lbs.
With an upgraded trigger group, you can reduce the pull weight by several pounds, decreasing it to around 2 lbs or less. A light trigger pull is exceptionally useful for competition shooting, where the force used to pull a heavier trigger can bring the rifle out of alignment.
Most of the triggers on this list have a pull weight of between 2 lbs and 4 lbs, with 3 lbs being about average. This is an improvement over standard trigger groups and should help increase accuracy and reduce trigger reset time.
Trigger Styles and Types Explained
Here is an in-depth explanation of the different kinds of AR-15 triggers, their benefits, and what differentiates them. You can use this information to choose the trigger that works best for your rifle build.
Single-Stage Triggers
Single-stage triggers have one stage, which fires the weapon. In a nutshell, a single-stage trigger is a 'click=bang' system, in which one swift squeeze fires the weapon.
Dual-Stage Triggers
Dual-stage triggers, also known as two-stage triggers, have two points of engagement. These engagement points have different weights, meaning after the first stage, the pull weight decreases. Dual-stage triggers allow you to 'set' the trigger to a hair-weight pull, which improves accuracy.
Binary Triggers
Binary triggers are often confused with dual-stage triggers, but they couldn't be more different. A binary trigger is a two-direction trigger, and it fires a shot on the pull and the release. It's not fully-automatic, but it allows rapid follow-up shots.
Curved Triggers vs. Flat Triggers
Curved triggers are traditionally-shaped triggers that are comfortable and familiar to most people. A curved trigger is probably what you think of when you picture a trigger. Some people call these triggers "MIL-SPEC," but the term is technically not correct, as it refers to pull weight and internal components as well.
Flat triggers, which are also known as square triggers, are a precision alternative to traditional round triggers. Flat triggers allow you to apply force in a more direct and precise way, and they're often used on target and match rifles. Flat triggers are uncomfortable for some people, so they're not as common as around triggers.
Standard vs. Drop-In
What's the difference between a standard and a drop-in trigger group? A standard trigger group consists of a set of loose parts, which usually includes a hammer, a sear, and the trigger itself.
These kits often contain loose springs, pins, and other installation hardware. Standard trigger groups often require some level of gunsmithing experience to install, and some fitment might also be required.
On the other hand, drop-in trigger groups are easy to install and require virtually no gunsmithing experience. Some basic tools, like a punch in the screwdriver, may be required.
But overall, drop-in trigger groups include all of the necessary parts in a self-contained housing, which slides directly into most standard AR receivers. Drop-in trigger groups are ideal for beginners and people who want an easy, headache-free trigger upgrade.
Adjustable Triggers
Adjustable triggers are relatively rare, but they are extremely helpful for competition shooters and people who like to tune their rifles to their exact specifications.
Adjustable triggers allow you to change the pull weight, which is ideal for situations in which you use your rifle for different purposes. For example, you can change the pull wait to 3 lbs for hunting and then reduce it to 1.5 lbs for target shooting.
Pin Size and Compatibility
Compatibility is an important thing to consider when choosing a trigger for your rifle. Before purchasing a trigger, determine what kind of lower receiver you have.
Most of the trigger upgrades on this list will fit into a standard MIL-SPEC AR-15 receiver. The vast majority of production rifles sold in the US are MIL-SPEC, which is good for universally interchangeable parts.
Large Pin Receivers
Large pin receivers are somewhat common, and they require a different set of pins to work with upgraded triggers. Older AR-15s, such as pre-ban Colt models, often utilize large pins.
Be sure to find a trigger group that comes with or accepts large pins. Otherwise, you'll have to bore and widen small-pin trigger parts yourself.
Small Pin Receivers
Small pin receivers are common on modern AR-15s. Many people consider the small pin variation to be standard. Most trigger groups will work in a small-pin receiver. This is especially true with drop-in models.
Best AR-15 Trigger Group Overall
Installing an aftermarket trigger group is one of the easiest ways to improve the performance of your AR-platform rifle. Selecting a trigger group with a light or two-stage trigger pull can improve the comfort, accuracy, and reliability of your rifle.
Overall, we believe that the best trigger upgrade on our list is the Timney Triggers AR-15 Competition series drop-in trigger. It's extremely easy to install, and it fits in most MIL-SPEC AR-15 receivers.