At a Glance: Best Trigger Guards for AR-15 Rifle
Comparison of The Top 3 Best Trigger Guards
PRODUCT
DETAILS

Our Top Pick

UTG Aluminum Trigger Guard, Matt Black

Durable
High quality
Symmetrical half oval with the angles following the magazine line
Big space around the trigger even for people with huge fingers
Easy installation

View Latest Price

Our Top Pick

Warhuntusa Aluminum Alloy Enhanced Trigger Guard

Durable and strong
Shiny red finish
Lightweight, only 0.5oz
Easy installation
V-size shape for more space around the trigger
Medium price range

View Latest Price

Our Top Pick

Gotical All Aluminum 6061 T6 M Operator Enhanced Drop in Trigger Guard

Strong and durable
Black matte finish
U shape providing more space around the trigger
Smooth round edges for comfort
Easy installation

View Latest Price
A trigger guard for your AR-15 rifle is an important safety feature protecting the trigger from getting hit and firing unexpectedly. Since there are different sizes, colors, and designs you can get, it gives you an opportunity to personalize your AR-15 rifle. The right guard can also improve the manipulation of the trigger for those with bigger fingers or those who need to shoot in gloves.
Our list of the 8 best trigger guards on the market today
We've done the testing to make it easier for you to find the best AR15 trigger and most suitable trigger guard for your needs. The criteria we used in the review are durability (based on the material the guards are made from), weight, design, ease of installation, ease of use while shooting, and, as usual, price.
UTG Aluminum Trigger Guard, Matt Black
The company UTG or Leapers, Inc. is based in Michigan. They are well known for manufacturing AR15 accessories including mounts, lights, and optics. Their product development is very end-user driven and they keep improving their products based on user feedback. Most of their products are made right here in the USA, supporting the local economy.
Their AR-15 trigger guard is not different. It is made from aluminum which makes it sturdy and durable. Its weight is around 0.64 ounces. The finish is matt anodized which protects it from scratches. It is designed as a partial oval to look symmetrical with the angels matching the magazine line on the lower, giving it a unique, sleek look. It is comfortable while providing ample space for your finger to stay safely off the trigger without feeling awkward as it might be with a standard straight trigger guard. More space in the loop allows even those with bigger fingers to use their AR-15 easily and safely. Installation is super easy as it comes with everything you will need, even an Allen wrench. Plus, the price is more than awesome.
Pros
Durable
High quality
Symmetrical half oval with the angles following the magazine line
Big space around the trigger even for people with huge fingers
Easy installation
An installation kit is included
Medium price range
Warhuntusa Aluminum Alloy Enhanced Trigger Guard
Warhuntusa is a not very well known company yet. That means you won't have to pay extra for the brand name. On the other hand, you may not have the same peace of mind about the quality of this AR-15 trigger guard as you would get from a well-known brand. But fear not.
The AR-15 trigger guard made by this company is strong and durable. It is made out of aluminum alloy, guaranteeing strength. It has a shiny red finish. It is quite lightweight, only around 0.5 oz. It is designed in a slight V shape that provides more space around the trigger even for people with bigger fingers. However, it might not be enough space for people going winter hunting and shooting with gloves on. Installation is easy as all parts are included. However, it is not a one size fit all option. A couple of friends could not fit this AR-15 trigger guard into their AR-15 lower. Also, the edges are rather sharp and need to be filed a bit to prevent cutting your fingers. The red color is quite bright when installed into a completely black AR-15 lower. Some people might like it but for me, the contrast is too much.
Pros
Durable and strong
Shiny red finish
Lightweight, only 0.5oz
Easy installation
V-size shape for more space around the trigger
Medium price range
Cons
Sharp edges need filing
It does not fit all lowers
Red color might contrast too much with a black lower
Gotical All Aluminum 6061 T6 M Operator Enhanced Drop in Trigger Guard
Gotical is another one of the less known AR-15 accessories manufacturers on the AR-15 market. Similar to Warhuntusa, you won't get prestige and brand recognition but you will save some money.
This trigger guard is machined out of aluminum alloy. That makes it quite strong and durable. It has a black matte finish that makes it blend in nicely with black lowers. This AR-15 trigger guard has a U shape which gives more space around the trigger and allows easy shooting for big fingered users, even those in gloves, in case you like to hunt or shoot in the fall or winter. It features an enhanced wide mid-section for better use and more protection while shooting. The edges of the trigger guard are smooth and round so it is very comfortable to use. This AR-15 trigger guard is held in place with standard roll pins and a set screw. That eliminates the need for gap plugs and it works well with most grips. When used in combination with .308 platforms, some custom fitting might be required. The price is very affordable for what this AR-15 trigger guard has to offer.
Pros
Strong and durable
Black matte finish
U shape providing more space around the trigger
Smooth round edges for comfort
Easy installation
Very cheap
Cons
Custom fitting is required when installed on .308 platforms
Magpul MOE Polymer Trigger Guard
Magpul Industries is an American company designing and manufacturing high-tech polymer and composite firearms accessories. Its name comes from their first product, a tool to help shooters to pull magazines from their pouches. MagPul is a well-known brand that guarantees a high quality of its products.
Its AR-15 trigger guard is made out of polymer. It is sturdy and durable while weighing only 0.18 oz. That makes it one of the lightest trigger guards on the market. It has a gray finish which looks more black but not too black. That is not the greatest if you want to color match the AR-15 trigger guard to your AR-15 black lower. Also, you might be disappointed if you expect a lighter grey color trigger guard. All the edges are round and smooth so you will never scratch your fingers on it. It has a shallow U shape which provides a lot of space around the trigger for bigger fingers and gloved hands. You do not need to worry that you might have to take off your gloves next time you go hunting in the fall. Installation is easy as all the necessary parts are included. It fits well on any mil-spec lower.
Pros
Durable and strong
Super lightweight, only 0.18oz
Shallow U shape for more space
Well known brand for top-notch quality
Easy installation
Fits great with mil-spec lowers
Very affordable
Cons
Color is more black than grey
May get scratched easier than aluminum trigger guards
UTG Oversized Trigger Guard, Matte Red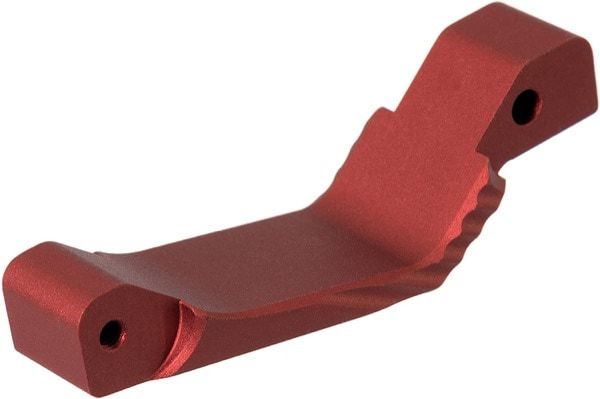 As mentioned above the manufacturer of this trigger guard, UTG, also known as Leapers, is quite well known for making high-quality products right here in the USA. Similar to its flatter brother mentioned above, this oversized AR-15 trigger guard is made from an aluminum alloy which guarantees strength and durability with a weight of 0.64 oz. It has a matte dark red anodized finish that does not look that bad with a black lower. It has the shape of a deep V. Thanks to that there is enough space for bigger fingers or to shoot with gloves. Installation is super easy as all the necessary parts and pieces are included. There is a screw in the front which keeps it from rattling. The roll pin can be difficult to install or take out without a center punch in the right size. You can always buy one, it will come handy during your shooting career. The back portion fits any standard lower and prevents you from cutting your knuckle on the sharp edges above the grip.
Pros
High quality
Durable and strong
Deep V shape
A lot of space for big fingers and gloves
Easy installation
Medium price range
Tacbro All Aluminum Enhanced Trigger Guard
Tacbro is a newer company from Southern California. It was founded in 2014. Its mission is to consistently provide superior quality hunting and sporting accessories for an affordable price. I think we all can stand behind this mission. This AR-15 trigger guard is machined from an aluminum alloy that makes it durable and long lasting. It has a shiny black anodized finish. The edges are round and smooth, preventing knuckle cuts. The U shape of this AR-15 trigger guard gives enough space to shooters with bigger fingers. However, it does not seem to be deep enough for use with gloves as more space is generally necessary, especially for shooters with bigger fingers. It is not too heavy with a weight around 0.6 oz. Installation is fairly easy. This AR-15 trigger guard comes with all the necessary hardware required to connect it securely to your AR-15 lower receiver. Tools are another matter, the allen key you'll need does not come with it. Tacbro throws an aluminum bottle opener into the package as well to keep its customers coming back. The price is pretty good. This AR-15 trigger guard is neither the cheapest nor the most expensive. Just the right price for the quality.
Pros
Durable and strong
Shiny black finish
Smooth round edges
On the lighter side
Easy installation – all pieces are included
Medium price range
Cons
U shape is not deep enough – hard to fit gloved fingers in
Troy Enhanced Rifle Trigger Guard

Troy Industries, Inc. is an American manufacturer of firearms and firearm parts based in West Springfield, Massachusetts. It was founded in 2003. It makes parts for the Smith & Wesson M&P15 and accessories for the AR-15. It is also a United States government contractor, making it a renowned brand with a reputation for high quality.
This AR-15 trigger guard is made out of aluminum alloy which gives it durability and strength. It also has an exceptionally low weight, only 0.35 oz. It has an anodized black matte finish which will blend nicely with your AR-15 lower. Smooth round edges and corners will prevent any cuts on your fingers or snagging on clothes. It has a deep U shape allowing for use with gloves while shooting. This AR-15 trigger guard uses a small spring-loaded pin that locks in the forward attachment point of the lower receiver. Not using screws eliminates the potential for them to strip, caused by over-torquing. This option fits great on Troy lower receivers. However, some of my shooting buddies had a hard time fitting it on other brands' lower receivers. Also, the price is almost double that of the other AR-15 trigger guards we have reviewed above. But hey, sometimes it is worth it to pay more for great quality.
Pros
Durable and strong
Super lightweight, only 0.35oz
Black matte finish
Smooth round edges and corners
Deep U shape for extra space around your trigger
Spring-loaded pin in the front attachment of the lower
Easy installation
Cons
Sometimes does not fit well on lowers other than those from Troy
Higher-end price range
Hygoo Tactical Aluminum Billet Trigger Guard
Hygoo is another no-name company from China that has been making some AR-15 accessories lately. That means the quality is not the highest. First the good things though. This AR-15 trigger guard looks super cool as it is designed as a cobra head. The weight for the novelty isn't bad, around 5 oz. It is skeletonized and provides extra-wide loops on the side of the trigger guard to rest your finger when not shooting.
And now onto the downsides. It is made out of cast metal which may be a bit rough and not the strongest. Since it is not made by a well-known company it does not fit many standard lowers. If it does fit, then the magazine can sometimes be hard to fit in the mag well. It also does not mount like a regular AR-15 mil-spec trigger guard. There is not a spring-loaded pin for the front and it doesn't use a roll pin for the back. It is instead tapped on all four corners while a mil-spec lower only has holes drilled in three of the points. This AR-15 trigger guard comes with four 3mm cap screws that are too long, and the holes are not lined up exactly. So you will have to cut them or buy shorter screws.
The best way to install this trigger guard is to use one screw in the front through the hole for the spring pin and one in the back on the opposite side. Get all of the screws started before tightening so that they will all go in and stay in. Despite all that, this AR-15 trigger guard is more expensive than most of the trigger guards we reviewed today
Pros
Strong
Super cool design
Lightweight
Cons
Questionable durability
difficult and time-consuming installation
Does not fit many standard lower receivers
May make it hard to insert the magazine into the mag well
Higher-end price range
What is an AR-15 trigger guard for?
A trigger guard is a band of metal protecting your AR-15 trigger. It protects your AR-15 from an accidental discharge.
Standard lower receivers usually come with a straight trigger guard which makes the loop too small to use by people with bigger fingers or those wearing gloves. Some shooters have solved the problem by removing the trigger guard altogether. However, nobody wants to be liable if their AR-15 fires by accident. Luckily, various companies started to make new types of trigger guards designed specifically for use with gloves.
Today, AR-15 trigger guards have all different shapes and styles. The most common are a V or U shape.
The depth of the U/V shape will dictate how big the loop will be.
Deeper U/V shapes providea bigger loop but might get in the way when handling your AR-15.
The U shape gives more space over the V shape.
However, the V shape looks fancier.
What to look for in an AR-15 trigger guard
Since a trigger guard is a quite important part of your AR-15 when it comes to safety, you should be looking for one which is high quality and really protects your AR-15 trigger from an accidental fire. In order to find the best AR-15 trigger guard for you, you should follow these steps:
1. Check the company that made it. If it is a well-known manufacturer of AR-15 accessories, there is a big chance that:
The quality is pretty good,
The trigger guard will be easy to install,
It will fit in a standard mil-spec lower receiver, and
It will last for quite some time.
2. Look at your fingers and decide what shape of an AR-15 trigger guard (U or V) would work better for you.
3. If you also plan to use your AR-15 in winter for hunting or sport shooting, you should probably choose a deeper U or V shape which will allow you to use gloves while shooting.
4. Check the material used as that will indicate the durability and strength of the AR-15 trigger guard you are considering.
5. Ease of installation is also quite important. You do not want to spend money on a product that will take hours to fit into your AR-15 lower receiver.
6. The price is the next thing to consider. Since there are a lot of AR-15 trigger guards in all different price ranges on the market right now, it would be wise to buy one which is good quality yet still affordable. I am pretty sure some of those we have reviewed here fit the bill.
7. A cool design would be the last thing I would look at. You really need an AR-15 trigger guard which works flawlessly. Sometimes form can be to the detriment of function. On the other hand, having a badass AR-15 trigger guard makes a great conversation starter at the shooting range.
What types of AR-15 trigger guards are out there?
There are multiple types of AR-15 trigger guards on the market. In the past, the main two types were categorized based on the way they were made:
Milled trigger guards are the original option. They are more time consuming to make so when they stopped working it was more expensive to replace them.
Stamped trigger guards were introduced later to save money. They were cheaper and faster to produce and if they started to wear out, you could usually just bend them back into shape and keep using them.
Today, the types of AR-15 trigger guards are categorized more on their use and shape:
Straight AR-15 trigger guards are the ones that usually come with a lower receiver. However, the loop is so small that people with bigger fingers have a hard time shooting their AR-15.
U or V-shaped AR-15 trigger guards provide more space around the trigger so that even people with bigger hands or people wearing gloves can use them comfortably.
Deep/oversized U or V-shaped trigger guards are the best for big hands in gloves. On the other hand, they might get in the way when handling your AR-15
Material and finish options in AR-15 trigger guards
Most AR-15 trigger guards are either made of aluminum alloy or polymer.
| Aluminum alloy | Polymer |
| --- | --- |
| Very sturdy and strong | Not quite as strong but good enough |
| Heavy | Lightweight |
| Anodized finish usually makes it look good longer | No specific finish except for the polymer color |
| Not easy to scratch | Easier to scratch |
There are also other types of materials like cast aluminu, but it increases the likelihood of scratching your fingers. Cast aluminum retains microscopic tears inside from the process of heating and cooling off.
Final Thoughts
After reading this article, you should know what kind of AR-15 trigger guard you need for your AR-15. But to sum it up:
If you prefer a sturdy aluminum one and don't mind the slightly greater weight, then go for UTG, TacBro, or Troy (the lightest of all three) If weight is the most important thing for you, then Magpul is the best, followed by Troy.
If you have big fingers and want to hunt in winter, then we would recommend the UTG oversized or the Troy to give you enough space. Hygoo would be great for its super cool design, however, this AR-15 trigger guard has some fit and finish issues.
For the highest quality, we recommend to choose: UTG, TacBro, Magpul, or Troy If you want to spend the least amount of money (which we would not recommend), your choices are: Gotical or Magpul.
I hope this review helped and good luck finding your favorite AR-15 trigger guard!