At a Glance: Best AR-15 Lower Vise Blocks
Comparison of Best AR-15 Lower Vise Blocks
PRODUCT
DETAILS

Our Top Pick

PSA Custom Series AR 15 Lower Receiver Vise Block

Made from polymer
Lightweight
Fits AR-15's magazine well
Can be used from the top or bottom
Suitable for two-handed manipulation
Very affordable

View Latest Price

Our Top Pick

Magpul Bev Block – AR15/M4 Mag536

Strong and durable polymer
Suitable for both, a lower and an upper receiver
Easy to use
Special tightening features when used with uppers

View Latest Price

Our Top Pick

Wheeler Delta Series AR-15 Mag Well Vise Block

Does not need a vise
Ergonomic arm with multiple angles
Arm can be used separately in a vise
Special jag for working on bolt carrier group
Durable and strong
Affordable price

View Latest Price
When you start building or maintaining your AR-15s you will find out that having your rifle secured in a vise will make your work easier. Regular vise jaws would damage and scratch your rifle though. That is why you need a lower vise block to protect your rifle.
We reviewed the 8 best AR-15 lower vise blocks on the market
There are multiple different types of lower vise blocks offering various cool features. It might be hard for a beginner to know which of those features are important. To save you time we tried eight lower vise blocks and reviewed them below to help you find the one most suitable for you.
PSA Custom Series AR 15 Lower Receiver Vise Block
Palmetto State Armory is a US firearms company based in Columbia, South Carolina. It derives its name from South Carolina's official nickname, "The Palmetto State." It was started by Jamin McCallum, a veteran of Iraq, because of his passion for firearms. The company offers a 100% lifetime warranty that extends beyond the original purchaser.
The PSA lower receiver block is made from a durable molded polymer. It fits into your AR-15's mag well from the top or bottom and is held secure by the magazine catch. You first clamp the lower vise block into the vise jaws, then place your lower receiver/full AR-15 on the block and you are ready to build, clean, or maintain your rifle.
This lower vise block is also suitable for two-handed manipulation and adjustments to your rifle or AR pistol without having to hold it in a vise. There is, however, a downside to this vise block. When you are torquing the buffer tube onto your lower you have to be careful not to use too much force or the vise block might break in half. It is a little bit more brittle than expected.
Pros
Made from polymer
Lightweight
Fits AR-15's magazine well
Can be used from the top or bottom
Suitable for two-handed manipulation
Very affordable
Cons
Brittle and prone to break when using too much force
Magpul Bev Block – AR15/M4 Mag536
Magpul Industries is a US designer and manufacturer of high-tech polymer and composite firearms accessories. The company is based in Austin, Texas. Magpul does not have a written warranty but their customer center will help you out anytime you have a problem with any of their products.
Recently, Magpul has ventured out into quality gunsmithing tools and the Magpul Bev Block is part of it. Bev stands for barrel extension vise. This vise block can replace multiple tools as it can hold a lower as well as an upper receiver. Its body is made from nylon polymer. There is a steel insert inside the body and an o-ring on the side that interfaces with the carrier for added rigidity when you use it with an upper.
Place the Bev block into the vise with the narrower part down and you can use it as a vise block for your AR-15 lower receiver. It fits great from the top as well as from the bottom. When you flip the Bev block in the vise, you can use the narrower part to engage the barrel extension in the upper receiver. You can tighten the barrel extension on the Bev block with a pin.
The only complaint we have is that there is a little wobble when working on your lower but you can get used to it.
Pros
Strong and durable polymer
Suitable for both, a lower and an upper receiver
Easy to use
Special tightening features when used with uppers
Cons
Little wobble when used with a lower receiver
Higher price range
Wheeler Delta Series AR-15 Mag Well Vise Block
Wheeler is an American company manufacturing a wide array of high-quality gunsmithing tools for all your firearms including specialty AR-15 tools. The company offers a limited lifetime warranty on all of its products.
Its Delta Series AR-15 Mag Well Vise Block is one of the handiest tools for an AR-15 owner. You do not need to own a vise to use this nifty vise block as it has its own platform that you can screw directly into your workbench. The arm of the vise block is very ergonomic. You can move it at a different angle within 180° (in 7° increments) and tighten the big black middle screw. The arm is removable.
As with other vise blocks, slide the AR-15 magazine well on it and you will have a steady base for cleaning or light gunsmithing on your AR-15, in either breech or closed position. It is made from solvent-resistant polymer that provides durability. It does not leave any marks on surfaces. There is a little jag on the side of the arm that is meant to hold the bolt carrier group.
Pros
Does not need a vise
Ergonomic arm with multiple angles
Arm can be used separately in a vise
Special jag for working on bolt carrier group
Durable and strong
Affordable price
Brownells – AR-15/M16 Lower Receiver Vise Block
In the 1930s, Bob Brownell owned and managed a gas station and sandwich shop in his small hometown of Montezuma, Iowa. In his free time, he enjoyed repairing and customizing firearms. By 1938, Bob added part-time gunsmith to his list of businesses. Today, Brownells is one of the biggest suppliers of firearm-related products. The company offers a limited warranty on all of its products.
This lower vise block is made from heavy-duty urethane plastic. That makes it sturdy and durable, keeping your AR-15 rifle secure for safe, effective cleaning, assembly, and repair. The block won't be destroyed even when applying strong vise pressure or torquing the barrel nut heavily. You can insert the block into the magazine well from the top or bottom and clamp the other end of the vise block in your bench vise jaws. The magazine catcher keeps the vise block safely and securely in place. The vise block does not leave any marks or scratches.
The only downside of this product is the fact that it cannot be used "out of the box." It requires some filing to fit. The material is a solid, milled urethane that is very tough to file and you will need a heavy-duty file to get this to the size you need. Also, when you file it to fit on one lower receiver it might not fit another one.
Pros
Strong and durable
Touch material
Does not leave marks or scratches
Can insert from both the top and bottom of the receiver
Affordable
Cons
Need to be filed to fit
Bit too big for most lower receivers
Sinclair International – AR-15/AR-10 AR Vise Block
Sinclair International is a subsidiary of Brownells. It offers a great selection of reloading equipment, tools, and supplies for rifles, handguns, and shotguns. Sinclair offers a limited warranty.
Its lower vise block is made of machined high-density polyethylene that makes it very solid. You just tighten the vise block into the vise jaws and insert the other side of the vise block into the magazine well of your AR-15/AR-10. You can tilt the block in the vise if you need to work at a different angle. The block can be inserted from the top as well as from the bottom of your AR-15.
This lower vise block has a simple design which does the job. Budget shoppers will appreciate that the price is affordable. It does not require any fitting and it is easy to use. You will need to have your own vise to use this lower vise block though. The only downside is the fact that the AR-10 model only fits Armalite AR-10 pattern rifles and does not fit DPMS/SR25 pattern rifles.
Pros
Tough material for durability
Does not require any fitting
You can tilt the block in the vise
Simple clean design
Affordable
Cons
AR-10 model is not compatible with all AR-10 guns
Real Avid – Smart-fit AR-15 Vise Block
Real Avid company was founded by Howard Tripp, a gun enthusiast and avid shooter in Plymouth Minnesota. The company is known for its innovative and well-thought-through products that make the lives of their clients easier. Their warranty is product specific but you have 30 days to return any item.
Smart-fit is a very nifty lower vise block with a cool looking grey and red design. It has an expanding design thanks to which it fits well and securely in any AR-15 magazine well. The Smart-fit vise block is made to eliminate any rattle and movement that is typical among one-size-fits-all blocks.
This vise block is made from a sturdy and durable polymer. To ensure a solid, immovable fit, simply insert the block into your gun's magazine well and rotate the adjustment handle until it is tight. This provides for a secure mounting point that holds your AR-15 in place while you work on it.
You can use this block in a vise from the top or bottom of your AR-15. You can also use it with two hands without a vise when working on inverted lower receivers, pistol grips, trigger guards, and other components on the bottom of the receiver with ease. This vise block also includes the company's Pivot Lock, allowing users to access the barrel and chamber of their guns hands-free.
Pros
Sturdy and durable
Expanding design for a great fit
Adjustment handle
For use with or without a vise
Affordable price
Eliminates the use of shims
Cons
So good your friend will want to steal it from you
Ergo Grips – AR-15/M16 Spike's Block
Ergo Grips is a US company that designs and manufactures its products in the USA while keeping the prices affordable. The company offers a lifetime warranty and has great customer service.
The Spike's block is made from molded, glass-filled resin polymer in a black color. It is 4-5⁄8 inches long, 2 inches wide, and 6-1⁄8 inches tall. It weighs 4.3 oz.
Spike's block securely supports the lower receiver for cleaning, maintenance, or storage. Its base has a small footprint and clamps. It is meant to be permanently attached to your workbench with four ¼ inch bolts or screws, but screws are not included. This design means you do not need to own a vise to use this lower vise block.
The vise block fits in the mag well of most AR-15 pattern rifles. However, sometimes you can feel a little wobble when using it. Grooves on both sides of the vise block accept the mag catch to lock your rifle in place. This block can also be used as a wall mount for your rifle.
Pros
Durable material
You do not need a vise to use it
A base for attachment to your workbench
Simple design
Works with most AR-15 pattern rifles
Can be used as a wall mount
Good price
Cons
Small wobble with some AR-15s
Creative Arms LLC – Machined AR-15/M16 Lower Receiver Vise Block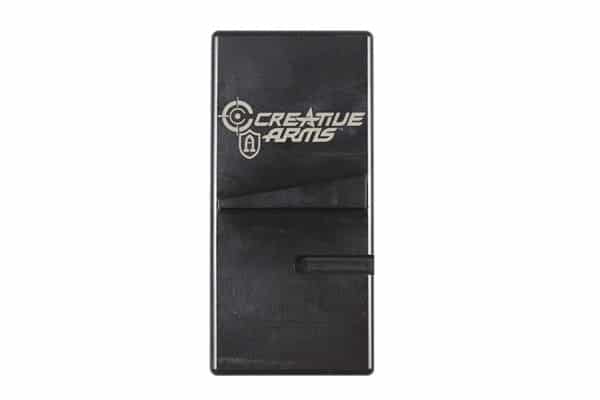 Creative Arms was founded in Des Moines, Iowa, in 2013 by the Folkestad family. The company offers high-quality firearms and suppressor solutions to the firearms industry.
Its vise block is machined from strong and durable HDPE. You just clamp it between the vise jaws and insert the other end into the magazine well. The block will hold your AR-15 lower receiver firmly and securely in place. The block won't scratch or mark the lower receiver when you are building, cleaning, or working on your AR-15. The vise block makes it easy to perform any kind of torquing operation on your rifle without fear of damaging your firearm.
This vise block has a simple design that makes it easy to use. It is affordable but not the cheapest for what it has to offer. However, it has only one size and the magazine wells on AR-15s might not always be the same. That means you can experience a slight wobble when working on your AR-15.
Pros
Durable material
Simple design
Holds firmly and securely in place
No scratches or marring
Medium to lower price range
Cons
Slight wobble with some AR-15s
What is a Lower Vise Block and What Are They Used For?
If you plan to make any necessary installations or repairs to your AR-15 rifle, you will appreciate having a lower vise block.
A lower vise block is a heavy-duty device designed to firmly hold your rifle in one place. It prevents crushing, twisting, and damaging your AR-15 or leaving any scratches on your rifle in the areas where it is held in the vise.
How to Choose a Lower Vise Block
There are few aspects to consider when choosing a lower vise block, especially if you want one which is durable, adjustable, and sold for a reasonable price. Safety is another important concern because you will be working on a firearm that you will be trusting your life to. High quality lower vise blocks will help you achieve safe AR-15 builds and repairs:
Material
The overall quality of your future lower vise block depends on the type of materials being used. The most common materials used to manufacture these lower vise grips include:
aluminum,
steel, or
polymer.
All these materials are sturdy and durable, with aluminum and steel being stronger than polymer. All these materials will work well for the protection of your AR-15 from any scratches, scuffs, abrasions, or other types of damage.
Adjustments
The best lower vise blocks allow for smooth and easy adjustments. They need to be tight enough to keep your AR-15 in one place but not too tight to crush or seriously damage your rifle while working on it. When adjusting your vise, always remember the old saying "Lefty loosey and righty tighty" to not over-torque the vise.
Price
The cost of your lower vise block should never be the only consideration even if you're a budget shopper. You need to pay attention to the overall quality and function of the lower vise block. This way, you will get a durable lower vise block that will perform well and allow you to work on your AR-15 safely.
How to Use a Lower Vise Block
Working on your AR-15 is very easy if you have a lower vise block. Follow these steps to use it properly and achieve the best performance:
Place one side of your lower vise block into the vise and tighten the vise jaws.
Slide the lower vise block into the magazine well and lock it in place.
Either the magazine latch or the jag on the side of the lower vise block will stop the lower receiver from touching the vise jaws.
You can take off your AR-15 when you depress the mag release.
When you are building your AR-15 and working on a stripped lower receiver, you can insert the vise block from the top or the bottom of your AR-15 lower.
Why you need a lower vise block to assemble your lower
You will appreciate having a lower vise block when putting together your lower receiver because it will make the process a piece of cake.
First of all and most importantly, it will keep your lower receiver in place when you are assembling it, particularly when installing the
Pivot pin,
Takedown pin,
Receiver extension,
Buffer tube,
Bolt catcher,
Trigger guard,
Buffer spring and pin, and
Second, it also comes handy when you are attaching or removing the stock.
Some tips to help you assemble your AR15 lower
Here are some tips to help you assemble your AR-15 lower better, safer, and faster while using a lower vise block. It is advised to follow these steps when building your own AR-15 lower receiver. For a visual aid check out this video.
First, install a magazine catcher into your lower. It will help you later to keep the lower receiver on the lower vise block without touching the vise jaws.
Second, work on the trigger as you will need to move the lower receiver around for this step when placing the trigger through the lower as well as inserting pins on the side of the lower.
Next, place the lower on the lower receiver block and lock it in place. Install the pivot pin and takedown pin.
Thread on the receiver extension and install the endplate.
Now we have the buffer retainer hole ready and can place the buffer retaining spring and buffer retaining pin in place.
Then you tighten the castle nut on the buffer tube by pushing the plate forward.
You will need an armorer's wrench to tighten the castle nut properly. Always make sure to have the teeth facing out.
Next, stake the castle nut and plate with a hammer and a taper punch.
Install the bolt catcher with help of a hammer and a roll punch.
Now you can flip the lower receiver on the vise block to install the trigger guard.
Place it back on the vise the regular way and insert the buffer spring and pin.
Attach the stock and you are finished.
Conclusion
When choosing the best lower receiver vise block, you should choose one which will last long, fit well into your AR-15, and won't be too expensive.
If you don't own a vise then choose one of these lower vise blocks as they can be bolted to your workbench:
Wheeler Delta Vise Block
Ergo Grips Spike's Block
If you are looking for a lower vise block that will fit tightly in most AR-15s, then choose the Real Avid Smart Fit.
If you want a simple design and a cheap lower vise block, pick one of these:
PSA Vise Block
Sinclair International Vise Block
Brownells Vise Block
If you have more money and want some more features, try the Magpul Vise Block
Whichever lower vise block you choose in the end, always remember to stay safe when working on or firing your AR-15!