At a Glance: Best Rifle Scopes for Hunting Coyotes
Comparison of the Best AR-15 Rifle Scopes for Hunting Coyotes
PRODUCT
DETAILS

Our Top Pick

Leupold Mark MOD 1 Riflescope​

Lightweight (weighs less than 13oz and 1-inch maintube)
Second Focal Plane Reticle
Measures about 12.6in for Length and Width and 1.6in for Height

View Latest Price

Best Long-Range Scope

Bushnell AR Optics 4.5-18x40mm Riflescope

Great budget scope for AR
Very easy to adjust and mount
Clear picture even at high magnification
Holds zero well

View Latest Price
Vortex Optics Diamondback 4-12×40

12.8 inches long with an eye relief of 3.1 inches.
Second focal plane reticle
Magnification ranges between 4-9x
Constructed with aircraft grade aluminum

View Latest Price
Best Scope for AR-15 Coyote Hunting
Coyote Hunting is a challenging activity practiced both for recreation and pest control. Hunters often prefer going after coyotes in the winter, when they can harvest the dogs' lush coat. Coyotes live in pretty much all geographical regions of North America, so hunting conditions vary widely.
Coyotes are highly intelligent animals, which means they offer a challenging hunting experience. You are not likely to get near them. A scope is practically a must for the long-range shots you almost always needed to make to bag a 'yote. Becoming adept at hunting coyotes takes years of practice. There is a lot to learn and a lot of techniques to hone in the process.
Coyotes are referred to as Destructive pests by farmers and ranchers because they attack and kill livestock or other domestic mammals. A USDA report from 2014 states that 28 percent of adult sheep deaths were caused by coyotes.
Equipment used when hunting coyotes is diverse and depends a lot on your local hunting environment. You'll probably need a lot of camo, calls, some binoculars, a good varmint rifle and the right scope.
The Best Scopes for AR-15 Coyote Hunting
Here we'll review some of the best models of AR-15 scopes covering the features, pros, and cons of each one. Scopes are so important that you should generally spend around the same amount on one as you spent on your gun. For making the kind of long shots usually needed to hit a coyote, you need a scope that you can rely on.
Leupold Mark MOD 1 Riflescope
This is one of the best rifle scopes on the market.
FEATURES
Fog, shock, and waterproof
Lightweight (weighs less than 13oz and 1-inch maintube)
Second Focal Plane Reticle
Measures about 12.6in for Length and Width and 1.6in for Height
Multi-coat 4 lens system
This is the perfect riflescope, suitable for almost all AR users. It can withstand harsh weather conditions.
Pros
Contains hash marks on reticle for easy use
Lightweight
Fog-proof, water and shockproof
Clear images because of the zoom ratio
Includes battery conserving motion sensor
Reticle has an illuminated firedot
Can be easily customized
Covered by a comprehensive lifetime warranty
Lens coating system gives bright a sight pictures and the maximum utilization of available light in low light conditions
Cons
Maximum eye relief at 3.80 inches is short for some users
The objective lens size is not the enough for the lowest light shootings
Nikon P-Tactical .223 3-9×40 Matte BDC 600
Nikon is a company that, in past times, focused on photography by producing cameras. Due to their experience with working and producing lenses, they now engage in production of riflescopes with some of the clearest and sharpest images. This model is best used for hunters shooting at medium or long range. It is recommended for its top-quality performance; it's also great for military use. The Nikon P-Tactical is ideally suited to the capabilities of a .223 AR-15. If you have some other rifles lying around, this scope is compatible with various other rifles like the Remington 700 SPS Tactical, the Stag Model 6 AR, the Winchester model 70, AR-15, and Mossberg MVP .223.
FEATURES
12.4 ″ in length and 16.9oz in weight
BDC 600 reticle
Second Focal Plane Reticle
Has a minimum magnification of 4x and maximum magnification of 9x
Zero reset
Adjustable finger feature, exposed and precise turrets
This scope is great value for money. It is packed with advanced technological features. It is an outstanding option for your AR15.
Pros
Able to perform speedy hand turn
Precision shooting offer available
Improved quality zoom feature
Spring-Equipped turrets that allow instant zero-resetting
Multi-coated optics for clearer vision and picture quality at any time in a day.
Compatible with Nikon's Spot-On Ballistic Software, which helps align the scope with data points and avoids wastage of bullets.
Cheaper when compared to alternative brands
Cons
Lacks audible clicks for turrets
Vortex Crossfire II 3-9×40
Vortex Optics, founded in 2002, is a family-owned company. They offer one of the best lifetime warranties in the business. Vortex produces optical instruments for hunting and other shooting activities. Some of their products include scopes and binoculars. This scope is very affordable and is a great match for any AR15. It has features that would benefit hunters who regularly take shots at game even out to 300-800 yards.
FEATURES
Affordable and budget-friendly
Turrets reset to zero
Suitable for rugged conditions
Multicoated, anti-reflective lenses
3-9x magnification range
12″ in length and 15 ounces in weight
Second Focal Plane Reticle
Constructed with aircraft-grade aluminum
Tube size of 1″ diameter
Bullet Drop Compensator (BDC) Reticule
This riflescope is great for shooters and hunters who do a lot of medium to long-range shooting and also comes at an affordable price. In addition, it can be used in any weather conditions.
Pros
The hard-anodized matte finish is anti-glare
Fast focus eyepiece enables quick and easy focus target acquisition
Suitable for all environmental conditions; waterproof, shockproof and fog-proof
Fully multi-coated optics allow an increase in light transmission and are anti-reflective
Cons
Turrets don't track well
The parallax is noticeable and needs manual adjustment
The image is sometimes distorted after magnification in excess of 6x
Focus rings on the riflescope need a relatively high amount of pressure to be applied
Best for Long Range Shooting: Bushnell AR Optics 4.5-18x40mm Riflescope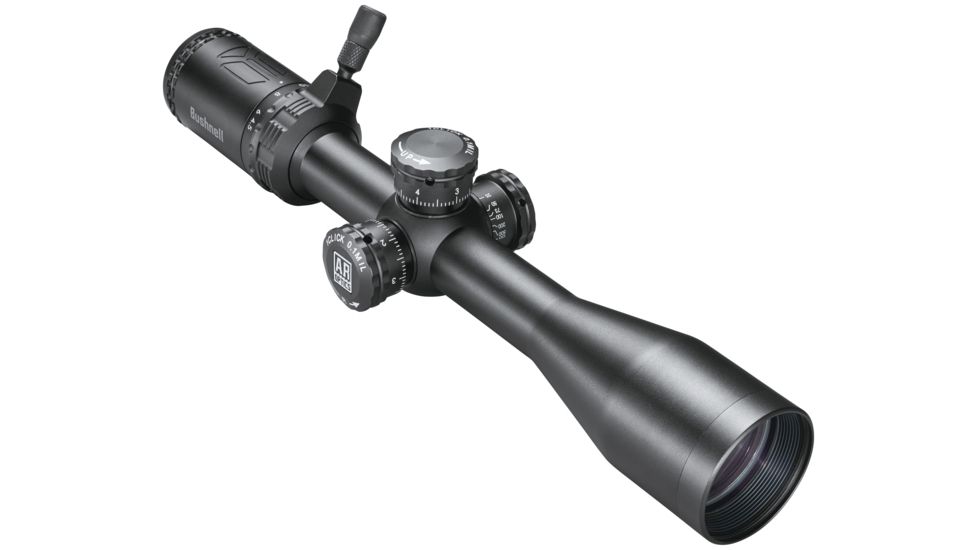 Bushnell has been active in the production of binoculars, trail cameras, riflescopes and so on. Due to the quality in the production of their equipment and popularity of their night vision products, the company won an OpticsPlanet Brilliance Award in 2017.
FEATURES
This scope is a great choice for long-range hunting or shooting excursions. Featuring side parallax adjustment allows you to adjust without breaking your stance.
Constructed of a single-piece aluminum tube with throwdown levers for quick magnification changes, exposed MIL turrets, adjustable parallax
Second Focal Plane (SFP)
Weight: 19.04oz
Parallax: Side Focus
Five elevation turrets
The Bushnell Optics AR 4.5-18×40 multi turret scope is a durable and attractive riflescope that will make your hunting experience enjoyable and pleasurable.
Pros
Great budget scope for AR
Very easy to adjust and mount
Clear picture even at high magnification
Holds zero well
Cons
Eye releif is a little short
Little heavy
Vortex Optics Diamondback 4-12×40
This is another product by the Vortex Optics Company founded by David C. Hamilton. The company has grown very popular as a result of the high-quality optic products and affordablity of their products. This scope is compact and offers excellent optic properties. Besides, Vortex is known for their outstanding warranty.
FEATURES
12.8 inches long with an eye relief of 3.1 inches.
Second focal plane reticle
Magnification ranges between 4-12x
Constructed with aircraft grade aluminum
Fast-focus eyepiece
Hard-anodized matte finish
Single-Piece tube
Despite the cons, these riflescopes are perfect for hunters and AR-15 shooters in general. It has durable and versatile features, suitable for all weather conditions, and it is also great for AR-15s chambered in rounds with heavy recoil.
Pros
Lifetime warranty, no questions asked
Shockproof, waterproof and fog-proof
Dead-hold bullet drop compensating reticle is very good for shooting at widely differing ranges
This scope is suitable for hunting large game and varmints.
Eye relief level that ranges between 4.5″ – 3.8″ makes the scope great for heavy recoil rifles without fear of eye injury
Has a magnification range suitable for traditional hunting below 1000 yards
Lightweight
Cons
The features are rather entry-level
The included accessories are not the best quality
The price is a little high
Not the clearest at max magnification
Primary Arms 4-16x44mm Riflescope Illuminated Mil Dot
Primary Arms is a relatively new company in the production of affordable and quality optics. Marshal Learner founded the company. Its mission is to provide firearms enthusiasts, professional shooters, and service members the highest quality optics at affordable prices.
This riflescope is good for competitive and long-distance shooting with features to allow fine-tuning in the field.
FEATURES
Magnification range between 4-16x
Illuminated mil-dot reticle
Second focal plane reticle
Constructed with aluminum
30mm tube diameter and 44mm objective lens diameter
Anodized matte finish
Exposed turrets
Finger adjustable with zero-reset feature
Side parallax adjustment knob
Audible and tactile clicks
Pros
Water-resistant, fog-proof, and shockproof
Very affordable
Great illumination for lower light conditions
Second focal plane reticle suitable for long-range shots
Side-mounted focus aids easy adjustment
Easy to operate and maneuver
Cons
Not the cheapest option
Limited lifetime warranty
Leupold VX Freedom 1 1.5-4x20mm P5 Dial Riflescope
This is another product of Leupold, founded 1907, and one of America's most beloved optics manufacturers. This scope is a great addition to any AR-15. It has ballistic matched tactical turrets calibrated to the famous .223 Remington 55gr FMJ which travels around 3100 feet per second. It has an attractive body shape and also features a fast-focus eyepiece, power selection ring and so forth. It is tough and suitable for hunting in harsh weather conditions with absolute reliability.
FEATURES
Weighs about 9.6 ounces and has an overall length of 9.2″
Has adjustable turrets which reset to zero
1″ tube diameter and 20mm objective diameter
Matte finish
Medium turret height
Second Focal Reticle Plane
Fixed parallax adjustment
Eyepiece length is 3.2″ and eye relief measures between 4.1 – 3.7″
Maximum windage adjustment and elevation adjustment is 125 MOA
Proudly made in the United States of America
Pros
Waterproof, fog-proof and shockproof
Affordable
Suitable for long-range shooting
Lifetime warranty
Durability
Bright firedot reticle
Tactile power selector
Cons
Heavy
Adjustment ring position can make it difficult to handle
Primary Arms 4-14x44mm Riflescope Mildot
This scope offers a first focal plane reticle, and it remains one of the most cost-effective products on the market. It is widely used by hunters, marksmen, and competition shooters across the country. It allows shooters to find their holdove without theuse of a bullet drop compensation (BDC) system. Suitable for shooters who want a military style reticule.
FEATURES
This riflescope is a popular choice among new and seasoned hunters as well as professionals who want an effective, accurate scope. This model is reliable and durable and also provides a clear sighting picture. First focal plane reticle best for short-distance shooting. Constructed with high-strength aircraft-grade aluminum making it resistant to water, fog, and shock.
Side adjustable parallax knobs
Eye relief between "3.2" – "3.14"
Mildot Reticle
Not illuminated
Exposed turrets, zero resets
Tactical and audible 1/10ML
30mm tube diameter
0.1MIL click value
Pros
Side adjustable parallax
Quick focus eyepiece
Fog resistant, waterproof and shockproof
Supports elevation and windage adjustments
Affordable optical system option.
Cons
Non-illuminated Reticle
First focal plane reticle
Does not have a lifetime warranty
Slightly expensive
How to Choose the Best Scope for Coyote Hunting
Coyote hunting is best during the dawn or late night time and can be difficult targets to acquire. Selecting the right scope for your rifle will make a huge difference.
Magnification range
First, you'll need to consider the magnification range. There is no generally accepted magnification range for hunting coyotes and the best magnification range for you will depend on your shooting environment.. If you hunt out in the wide-open prairie, you probably need a high magnification range. If you are confined to dense brush, you can make do with the average or low magnification power.
For example, if your shooting will be in the deep woods, your farthest shot will not exceed 200 yards. A scope like 1.5-5x might be the most suitable.  Shooting in open plains, the range can expand out to 500 yards and scope with up to 20x zoom is ideal.
Objective lens
Second, get a scope with a wide objective lens. This will admit more light and give you a clearer sight picture. Many coyote hunters suggest an objective with a minimum of 50mm.
Weight may also be a consideration when choosing a scope for your AR-15. If you will be lugging your weapon around the backcountry, you likely want to get a lightweight scope that won't affect or weigh down your rifle.
Durability is a major consideration with scopes, as with all firearm products. Coyote hunting can take you into rugged conditions, so you need a scope that will be able to withstand some harsh conditions, and will be water-resistant and shockproof. A good warranty is generally a clear sign of a scope's durability.
Buy a scope with a reticle that suits you and that is compatible with your rifle. This is largely a matter of taste. Maybe you want a complicated reticle for your AR-15 like a BDC, however, you'll need to memorize your drop ranges, so many shooters prefer a simpler crosshair reticle.
Check out our guide on the best AR-15 Scope mounts to make sure you have the proper mounts
First Focal Plane VS Second Focal Plane Reticles
You can identify a first focal plane reticle if the thickness of the crosshairs appears to increase as you raise the magnification. A second focal plane reticle remains the same size as your raise the magnification.
Many shooters prefer to use first focal plane (FFP) reticles.
That's because depending on the design, FFP reticles can help you calculate range. The relative size of the reticle and target will remain the same across the magnification range. Caylen Wojcik, a former marine sniper, stated that "First Focal Planes are the best for long-range shooting because the reticle subtensions remain the same regardless of magnification."
Unlike a FFP reticle, a second focal plane (SFP) reticle will not appear larger and thicker the higher the magnification. They are great for taking long-range shots at varmints like coyotes. If they have range calculating abilities, they are usually designed to work only at the highest magnification level.
Wrapping it up
I'd pick the Vortex Optics Crossfire II as the best value for money in an AR-15 coyote hunting scope. It gives you great illumination and an outstanding sight picture in various light conditions. Since scopes are absolutely essential to long-range shooting, they can make or break your hunting season.
Coyotes are ingenious animals, it's next to impossible to sneak up on them, so long-range shots are the norm. The AR-15 is the closest thing to the ideal coyote hunting gun there is, but a great scope is essential. Magnification range, reticle design and placement, illumination, and durability are some of the top things to think about when choosing an AR15 coyote hunting scope. We've laid out some of the best models out there, but ultimately, it is a matter of personal preference. No matter which one you choose, practice as much as you can, stay safe and have fun.