At a Glance: The Best Ammo For Glock
Comparison of The Best Ammo For Glock
PRODUCT
DETAILS

Our Top Pick

Winchester USA 9mm FMJ Ammo

Bullet Style: Full Metal Jacket (FMJ)
Bullet Weight (Grains): 115
Cartridge: 9 mm Luger

View Latest Price

Our Top Pick

Federal Premium Punch Defense 9mm Ammo

Bullet Style: Hydra Shok Jacketed Hollow Point
Bullet Weight (Grains): 124
Cartridge: 9 mm Luger

View Latest Price

Our Top Pick

Remington UMX 9mm Ammo

Bullet Style: Brass Jacketed Hollow Point
Bullet Weight (Grains): 124
Cartridge: 9 mm Luger

View Latest Price
The Glock 19 is a popular handgun, and for good reasons. It's compact, easy to shoot, and highly reliable. Owning the right Glock 9mm handgun is only half the battle—without the correct ammunition, your Glock may not reach its full potential. Here's how to choose the best 9mm ammo for your Glock, along with four of the best target and defensive cartridges available today.
Our Guide to the Best 9mm Ammo for Glock
I spent weeks trying to find the best 9mm ammo for my Glock. Eventually, it boiled down to one fundamental question: What do I use my Glock 19 for? It'll be easy to select the right ammunition once you answer this question. Here, we reviewed six popular cartridges to help you find the best 9mm ammo for your handgun.
Winchester USA 9mm FMJ Ammo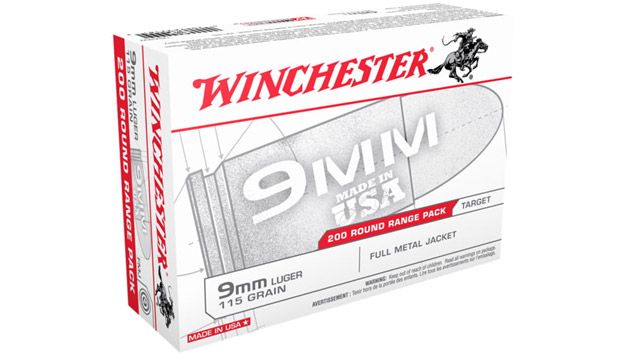 Winchester's FMJ (full metal jacket) 9mm ammunition is America's bread-and-butter general-purpose ammo. If you've been shooting for a while, chances are you have a classic grey box of Winchester hanging around somewhere.
FEATURES
Bullet Style: Full Metal Jacket (FMJ)
Bullet Weight (Grains): 115
Cartridge: 9 mm Luger
Muzzle Energy: 362
Muzzle Velocity (feet per second): 1190
Winchester's 9mm FMJ features a fully-jacketed (copper covered) 115-grain lead round with a solid point and a brass casing. Many shooters prefer brass casings, as the softer metal makes malfunctions less likely. Additionally, Winchester's 9mm FMJ isn't steel-core, so it's safe to shoot at any shooting range.
Winchester's 115-grain bullet is on the lighter side for 9mm rounds, which usually range from 115 to 147 grains. Like most things, bullet weight is a tradeoff. What you lose in hitting power, you gain in velocity. Remember, it's not necessarily how hard you hit the target—it's how effective the bullet is when it hits the target.
This round exits the barrel with a muzzle velocity of 1,090 feet per second, making it fast, accurate, and dependable. Its relatively low bullet weight reduces recoil, so most shooters can handle it with ease.
Reliability is a significant selling point for Winchester full metal jacket 9mm ammo. That's not to say that the Glock 19 itself isn't reliable—Glock is legendary for dependability. But there's no room for malfunction when your life (and your confidence in your weapon) depends on it. Full metal jacket rounds are less likely to deform during feeding. They also offer enhanced penetration.
However, penetration isn't always advantageous in defensive situations. Full metal jacket rounds sometimes penetrate the target and the wall behind them, which risks injuring bystanders.
When you combine Winchester's high manufacturing quality with the positive characteristics of this round, you get a reliable go-to cartridge for typical shooting activities and (if necessary) defensive situations. And while it's not the most effective self-defense or hunting round, Winchester USA 9mm ammunition is some of the best 9mm ammo for the range.
Pros
Low recoil
Reliable feeding
Brass case
Superior penetration
Cons
Less effective in self-defense (compared to hollow points)
Potential over-penetration in closed environments
Copper fouling from the jacket can be challenging to clean
 Residents in CA, DC, IL, MA, NY, CT, and NJ may have additional restrictions
Federal Premium Punch Defense 9mm Ammo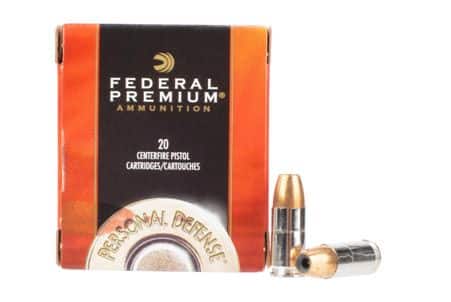 Federal is another well-known ammunition manufacturer with a reputation for American-made quality. Federal Premium Punch Defense combines the reliability of full-metal-jacket rounds with the stopping power of hollow points.
Hollowpoint rounds are ideal for defensive situations. This heavy-hitting 124-grain jacketed round offers superior stopping power to solid-nose rounds. As seen on the box, these Federal hollow point 9mm rounds expand when they hit the target, effectively mimicking the effects of much larger calibers.
Despite its heavier 124-grain bullet, Federal Premium Punch 9mm has a velocity of 1,150 feet per second. This is higher than Winchester FMJ, making Federal Premium Punch a superior all-around defensive cartridge. It hits hard, fast, and wide, thanks to an expanding hollow point.
This round features a copper jacket, which is the most common kind of plating used for jacketed rounds. Copper is reliable and doesn't damage the barrel, but it can lead to unsightly green copper fouling that's difficult to clean.
Generally speaking, hollow point ammunition feeds somewhat less reliably in automatic pistols. Federal makes up for this disparity using nickel-plated brass cases, which reduces friction and encourages smooth chambering and ejection.
I would describe Federal Premium Punch as an excellent introduction to 'premium' defensive ammunition. This isn't your plinking cartridge—it's the cartridge you carry every day and practice with carefully.
Federal Premium Punch is some of the best 9mm self-defense ammo available today. It's ballistically superior to any solid-nose round for defense. It offers both higher weight and velocity than the average 9mm cartridge. Increased recoil could be a problem for some shooters, but the added effectiveness of the round could make all the difference in a defensive situation.
Pros
Hard-hitting 124-grain bullet
Ballistically superior hollow point for defense
Nickel-plated cases increase reliability
Higher than average velocity
Cons
Hollowpoint ammo may feed less reliably overall
Heavier recoil than some 9mm cartridges
Nickel-plated cases are brittle and may be more difficult to reload
Copper jacket increases copper fouling, which is unsightly and difficult to clean
Remington Ultimate Defense 9mm Ammo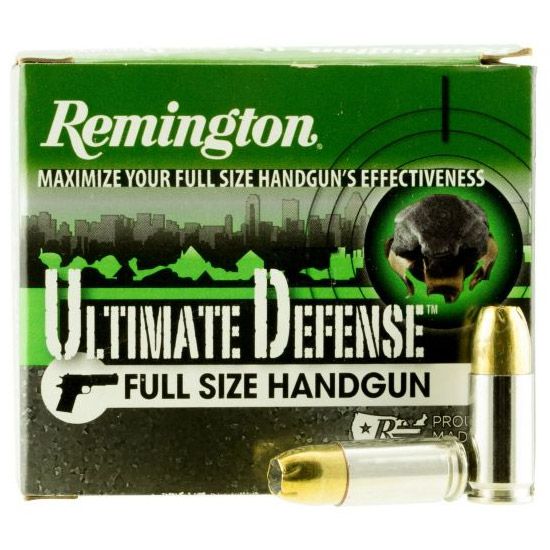 Here we have Remington's take on a high-end defensive hollow point. Remington Ultimate Defense 9mm ammunition is designed specifically for home and personal defense. This premium 9mm cartridge offers superior accuracy and higher-quality materials than the average brand.
FEATURES
Bullet Style: Brass Jacketed Hollow Point
Bullet Weight (Grains): 124
Cartridge: 9 mm Luger
Like Federal Premium Punch Defense, Remington Ultimate Defense features a nickel-plated brass casing for better feeding. But unlike Federal, Remington opted for a brass jacket instead of copper. Brass jackets won't foul the barrel as quickly as copper, which increases long-term accuracy and reduces cleaning time.
Remington's heavy 124-grain hollowpoint bullet is uniquely conical and narrow. In other words, the bullet itself looks 'pointy' and thin. But there's a good reason for this—the tapered round reduces friction and increases accuracy, which is a big plus for precision-grade shooting.
Remington Ultimate Defense falls on the high end of the velocity spectrum at 1,130 feet per second but falls short of Federal Premium Defense. This could be an advantage, as lower velocity can slightly reduce recoil.
As we mentioned before, hollow point rounds are superior to solid-nose in defensive situations. Remington's round expands upon impact with a target. This simultaneously increases effectiveness and reduces the chance of a stray bullet going through a wall and threatening bystanders.
Overall, Remington Ultimate Defense is an excellent self-defense cartridge offering superior accuracy and easy cleaning. It retains the hard-hitting qualities of other popular hollowpoints while simultaneously reducing maintenance requirements. If you're obsessed with accuracy, Remington Ultimate Defense 9mm is an excellent choice for defending your home and business.
Pros
Heavy 124-grain bullet
Unique bullet shape for superior accuracy
Brass jacket reduces barrel fouling
Higher than average velocity
Nickel-plated case for reliability
Cons
Recoil may discourage inexperienced shooters
Velocity is slightly lower than some competing brands
Remington UMX 9mm Ammo
Here's another Remington product designed with target shooters in mind. Remington UMX 9mm is a solid-nose full metal jacket cartridge. It's made right here in the United States and backed by Remington's reputation for high-quality materials and manufacturing.
FEATURES
Bullet Style: Jacketed Hollow Point
Bullet Weight (Grains): 115
Cartridge: 9 mm Luger
Remington UMX is comparable to Winchester's FMJ 9mm solid-nose ammunition in quality and overall utility, but the round differs in a few key areas. Remington UMX 9mm has a velocity of 1,145 feet per second, which is higher than the competing Winchester cartridge. However, both products share a 115-grain copper-jacketed lead bullet.
Copper jacketing offers superior performance to unjacketed lead rounds. It also increases reliability, as copper prevents the round from deforming during feeding. Remember, copper jackets increase barrel fouling over time and complicate cleaning.
Remington UMX ammo is ideal for people who spend more than a few minutes at the range. This ammunition is harder-hitting than the comparable Winchester round, but it also has increased recoil. But the difference is marginal and shouldn't be an issue for experienced shooters.
Remington UMX 9mm is an excellent cartridge to stock up on. And although Remington Ultimate Defense is a better option for self-defense, UMX will certainly work if the need arises. This ammunition is a premium 'general purpose' round and a fantastic choice for stocking-up.
Many shooters purchase hundreds or thousands of these rounds at a time. Remington UMX 9mm is a wise choice for an all-day trip to the range or when training with your Glock 19. This ammunition is ideal if you need a hard-hitting and reliable round for practice. Throw a couple of boxes in the safe and a few more in your range bag, and you can plink all day without trouble. But if you're brand new to shooting, you may want to consider Winchester instead for lighter recoil.
Pros
Excellent reliability
Higher velocity than competitors
High-quality brass case
Copper jacket increases accuracy
Cons
Heavier recoil than Winchester solid-nose 9mm
Copper jacket can cause fouling
Barnes TAC-XPD Personal and Home Defense 9mm +P Ammo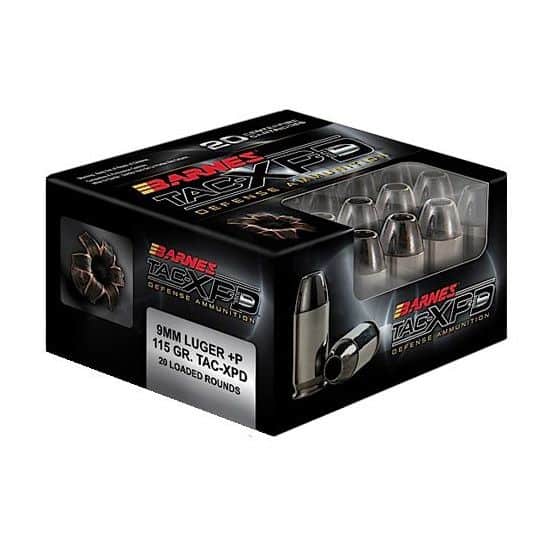 Barnes TAC-XPD 9mm +P ammunition is a uniquely engineered defensive round that's ideal for everyday carry in a Glock 19. This hollow point cartridge is on the high-end of defensive ammo, and it's ideal for shooters who want the latest breakthroughs in ammunition design. If you're looking for a high-caliber punch in a small cartridge, then Barnes TAC-XPD +P may be the ammo for you.
Barnes TAC-XPD ranks among the best 9mm ammo for defense. It's classified as a +P round, meaning it's more potent than a standard 9mm cartridge. But how does +P designation translate to the real world? In this case, the light 115-grain bullet exits the barrel at a higher pressure and achieves a respectable velocity of 1,125 feet per second.
The bullet itself is all copper and features an unusually deep hollowpoint cavity. Through in-house testing, Barnes demonstrated the ballistic superiority of this design and claims they achieved the best and most consistent performance in the market.
There are real practical advantages to the all-copper hollow point round, especially at higher (+P) pressures. The deeper hollow cavity allows for increased expansion, and the added strength of the copper holds it all together. Additionally, all-copper rounds are acceptable in areas where environmental laws prohibit lead ammunition.
But before shooting with +P ammunition, be sure to check if it's safe to use in your gun. Some older firearms aren't designed for the increased working pressures of +P ammo.
Barnes TAC-XPD ammunition features everything you'd expect from a premium defensive round, including a nickel-plated casing for reduced friction and increased reliability. Accuracy is excellent, and the round reports a modest drop of 1 inch at 50 yards. Interestingly, the Barnes 9mm +P bullet experiences less drop than a comparable .45 ACP +P round.
Overall, I'd recommend the Barnes TAC-XPD cartridge for Glock owners who carry daily and expect maximum stopping power. Whatever disadvantages hollow point ammunition may have are likely outweighed by the precise engineering of this defensive round.
Pros
All-copper bullet
Superior expansion and ballistic performance
+P round offers extra power
Nickel-plated casing increases reliability
Legal where lead ammunition is prohibited
Cons
Not ideal for plinking, as some ranges prohibit high-penetration ammo
Some shooters consider +P ammunition to be 'overkill'
Conversely, some shooters report disappointing power compared to other +P rounds
Hornady Critical Defense 9mm Ammo
Hornady Critical Defense ammo is a popular high-end defensive 9mm hollowpoint round. Hornady has a reputation for experimental ammo designs, and they produce premium self-defense and hunting ammo. The patented Hornady FTX bullet has a few tricks up its sleeve and offers numerous advantages to typical 9mm rounds.
Hornady's Critical Defense 9mm cartridge features a red synthetic inlay in its hollow cavity, immediately distinguishing it from the other products on our list.
At first, the idea of sending a bullet with a plastic insert down a hot gun barrel may seem absurd, but it's actually part of Hornady's FTX bullet system.
The FTX system 'flex tip' is Hornady's solution to the problem of expansion. The red rubber-like insert controls bullet deformation and helps the round fray out evenly after impacting a target.
The plugged nose also stabilizes trajectory when the bullet flies through the air. This effectively eliminates the (obvious) accuracy problems caused by drilling a hole in the tip of a bullet.
Hornady didn't stop there. In addition to an advanced bullet design, the company also utilized a proprietary powder blend that reduces recoil and muzzle flash. However, this seemingly perfect cartridge has some notable drawbacks.
Hornady Critical Defense 9mm is the fastest and heaviest ammunition on our list. It has a bullet weight of 115 grains and a velocity of 1,125 feet per second. In the Glock 19, the recoil difference between this round and most standard 9mm ammo is noticeable. It's much 'snappier' and louder than the average cartridge, which can be an issue for some shooters.
Overall, the Hornady Critical Defense 9mm cartridge is a big winner for hunting and defense. It's ideal for everyday carry, vehicle carry, and home defense.
However, it's not the best general-purpose or target practice round, as the added recoil and overwhelming 'crack' can be fatiguing after just a few magazines. Some shooters describe shooting this powerful round as "just a bit too much" for regular plinking.
Pros
FTX bullet provides solid-tip accuracy
Even bullet expansion
In-house powder reduces recoil and muzzle flash
Nickel-plated casing increases reliability
Cons
Recoil still heavy despite improved powder
It's powerful all-around ammo and may be overwhelming for some shooters
Choosing The Right Round For Your 9mm Firearm
So, how do you choose the right 9mm ammo for your gun? Sifting through dozens of ammunition brands can be daunting, and sometimes gun store employees aren't much help. But choosing the right 9mm ammo doesn't have to be costly or time-consuming if you ask the right questions.
What's the primary purpose of your handgun?
How often do you shoot your gun?
Do you carry it daily for self-defense?
Is it your hunting sidearm?
Are you practiced with your firearm enough to be comfortable with it?
Who's the primary user of the firearm?
Asking these questions can help you narrow down the type of ammo you need. Is your handgun used primarily for fun, target shooting, or as a backup gun? If so, then general purpose ammo with a solid-point will work best. These activities don't require (or even benefit from) advanced defensive hollow point ammunition.
The best 9mm ammo for target shooting is Winchester 9mm FMJ (full metal jacket) and Remington UMX 9mm ammunition. Solid-nose ammunition is excellent for a hunting sidearm in forested areas, as the round can punch through branches and brush without deforming.
There are numerous ideal cartridges for defensive carry guns. Solid-nose rounds certainly work, but hollow point ammunition has greater stopping power. Also, in the event of an indoor discharge, hollowpoint ammunition is less likely to penetrate walls and furniture and injure bystanders.
Hollowpoint ammunition is ideal for hunting in flat, treeless landscapes, with minimal obstacles like branches and leaves. It's also more effective once it hits the target.
Overpressure (+P) Ammunition
But what about +P ammunition? Overpressure 9mm rounds like the Barnes TAC-XPD +P offer additional energy by increasing the working pressure of the round. People who prefer larger cartridges like .45 ACP or .357 Magnum may be more comfortable carrying a 9mm if their round has just a bit more 'punch' behind it.
Additionally, +P rounds really do hit harder and offer additional stopping power when standard 9mm just doesn't cut it. But in most cases, +P isn't necessary to make the 9mm effective for self-defense.
What Ammo Does Glock Recommend?
Glock handguns can shoot most commercially available ammunition without trouble. However, Glock recommends only shooting ammo that meets Shooting Sports And Arms Manufacturing Institute (SAAMI) guidelines.
Here are some examples of ammo that's generally safe to shoot in Glock 9mm pistols:
Non-jacketed lead rounds
Jacketed rounds
Solid-nose ammunition
Hollowpoint ammunition
Certified +P 9mm rounds
Most major ammunition brands already meet these standards, including many +P varieties. However, +P+ ammunition may not be certified and can be hazardous in Glock pistols, so it's best to avoid using it. Other than that, you can use just about everything from imported steel-cased surplus to top-notch defensive ammo in your Glock.
Best 9mm Ammo for Defense and Concealed Carry
Most people who carry a gun for self-defense prefer hollow point ammo due to its increased effectiveness. Every shot counts when your life depends on it—choosing hollow point ammo is absolutely the best choice. In fact, hollow points are so devastating that they're banned in warfare by the Geneva Convention.
Here are the best 9mm rounds for self-defense and everyday carry.
Hornady Critical Defense 9mm ammo
Barnes TAC-XPD Personal and Home Defense 9mm +P ammo
Remington Ultimate Defense 9mm ammo
All of these cartridges are purpose-built for personal defense, safe to shoot in your Glock, and reliable. Each cartridge is ballistically tested to inflict severe damage on impact, increasing the likelihood of stopping the bad guy in his tracks.
Choosing the best self-defense ammo is important, but choosing the right self-defense gun is even more important. What good is a concealed carry pistol that you leave at home? Be sure to take the time to find the best Glock for your own personal protection.
Why Is 9mm Hollowpoint Ammo Better For Defense?
Hollowpoint rounds increase the 'cavitation' effect when the tip of the bullet splits open and passes through a target. Cavitation affects an area several times the size of the bullet and causes massive internal damage by 'ballooning' the affected area. That's why pumpkins explode when you shoot them.
Can I Use Solid 9mm Rounds For Self-defense?
Again, don't rely on solid full metal jacket rounds for self-defense if possible. Stray bullets are bad news, especially when you can't see where they're going.
Because shooting through the wall and into the neighbor's refrigerator is not a good situation.
If someone kicks down the door at 3 AM, you may not have the wherewithal to predict where your shots will end up after firing at the target. Best to minimize the likelihood of injuring others by using a round that's designed to hit the target and slow down.
Best 9mm Ammo To Use At The Shooting Range
If you're shooting water bottles, fruit, or ballistics gel, then a high-velocity hollow point can put on quite a show. But for everyday target shooting, a solid-nose FMJ (full metal jacket) round is best.
Here are our two favorite rounds for fun and target practice.
Both of these rounds are copper jacketed. Copper fouling can be annoying to clean, especially after hundreds of rounds on a range day. If you don't want to use all your solvent scrubbing green streaks off the rifling, try a non-jacketed round. Most ammo distributors sell plain old lead 9mm ammo, and it works (almost) as reliably as FMJ rounds in my experience. However, it's easy to deform the soft bullets, so use care when loading magazines and clearing malfunctions.
Most Accurate 9mm Ammo
Each of these cartridges performs well at defensive ranges. According to Winchester, 90% of self-defense shootings happen at ranges between 9 and 12 feet, making long-range testing irrelevant. To me, it seems unnecessary to factor in 25 and 50-yard range tests when choosing a defensive cartridge.
But 25 and 50-yard range testing does matter for competitive shooting and target practice. Generally speaking, heavier bullets achieve better accuracy as they're affected less by the wind. Jacketed and solid-nose rounds are (in theory) also more accurate.
Here are the primary factors that affect accuracy:
Barrel length
Bullet weight
Bullet velocity
Bullet shape
Shooting stance
Experience
Weather conditions
Range to target
Cleanliness (is your gun fouled?)
Barrel temperature (hot barrels can 'walk' or warp ever so slightly, but the problem is less pronounced on pistols)
Based on those factors, the most accurate round on our list is the Hornady Critical Defense 9mm hollow point. Hornady solved the aerodynamic problem by plugging the nose and promoted wind resilience by increasing the bullet weight. Couple that with an extra-high velocity, and you've got yourself some of the best 9mm ammo for accuracy.
However, your shooting experience and comfort are just as important to accuracy as the round itself. If you're concerned about accuracy, practice and modifications can have a greater effect than switching ammo. Consider upgrading your Glock trigger to improve precision between shots and visiting the range more frequently.
What's The Best Alternative To 9mm Ammo?
The answer to this question depends on why you're looking for an alternative to 9mm ammo. In many cases, people seek an alternative because most 9mm firearms are too large to carry concealed.
Smaller Alternatives To 9mm Luger
I'll be the first to admit that carrying a full-size handgun can be a major hassle. Here are the best cartridges for people looking to downsize their concealed carry weapons.
38 Special
380 ACP
25 Auto
22 Magnum
Out of all these alternative cartridges, the .38 special has the most stopping power. Though technically longer than 9mm, .38 special is available in many compact and lightweight revolvers.
Small automatic pistols that shoot .380 ACP and .25 auto are common and very inexpensive, and easier to reload than revolvers. The .22 magnum cartridge is simply a stretched version of the .22 long rifle and offers slightly more stopping power.
Larger Alternatives To 9mm Luger
But what if you want a larger, heavier hitting gun than a 9mm Glock? In that case, your options include world-famous designs like the Colt 1911 and the Smith and Wesson Model 19. Here are some more powerful alternatives to the 9mm cartridge.
45 ACP
357 Magnum
40 Smith and Wesson
10mm
Let's start with .45 ACP. This cartridge is famous for its incredible stopping power and its use in most 1911-style pistols. There aren't a lot of 'small' guns that shoot .45, but each shot has the potential to do a lot more damage than 9mm.
The .357 Magnum is a stretched version of the .38 Special, but its use is mostly limited to six-shot revolvers. The .40 Smith and Wesson sits between 9mm and 10mm and provides a good medium between the calibers.
10mm is longer than 9mm, .40 S&W, and .45 ACP, but it's relatively narrow. 10mm is a good intermediary between .40 S&W and .45 ACP.
What's The Best 9mm Ammo Overall?
Each cartridge listed here has its own unique advantages, but I found that the best all-around 9mm ammo is Hornady Critical Defense.
After shooting dozens of ammo brands through my Glock 19, I chose Hornady Critical Defense as my go-to carry ammo. And while it's not the best for target shooting, the cartridge's overall punch and accuracy gives me peace-of-mind when I carry.
A close runner-up is the good ol' Winchester solid-nose FMJ 9mm. Why? Because it's an absolute joy to shoot, and you can shoot all day without running out of steam. I think everyone should keep a healthy supply of standard, no-frills 9mm ammo around for practice, plinking, and fun on the range.