At a Glance: Best AR-15 Gas Blocks
Comparison of Best AR-15 Gas Blocks
PRODUCT
DETAILS

Our Top Pick

ODIN Works AR15 low profile gas block

The most adjustable gas block out there
Inconel adjustment screw for handling heat
Easy to adjust the block
A reliable and affordable choice

View Latest Price

Our Top Pick

SLR Rifleworks AR15 Sentry adjustable set screw gas block

15-position adjustability
Very easy to install and adjust
Available in 4 different sizes
A very reliable choice

View Latest Price

Our Top Pick

Superlative Arms AR15 adjustable gas block

Low-profile design that fits under most handguards
30 position adjustability
Front adjustment
Captive screw and detent system for easy adjustment
Significantly reduces heat build-up and recoil
Great value for money

View Latest Price
One great quality that AR15 rifles have is their ability to be tuned for better performance and to be customized to no end. This is thanks to the large range of aftermarket parts available such as gas blocks.
Installing one of the best AR15 gas blocks available will reduce your rifle's recoil, increase accuracy and reliability, and open up a wide range of customization options.
In this article, I'll explain why an aftermarket gas block is one of the best upgrades you can make on your AR15. I'll also talk you through what to look for to ensure your new gas block is of the highest quality.
Our guide to the top 7 AR15 gas blocks on the market
Here are the 7 best AR15 gas blocks that are on the market this year. We have tested and reviewed each one to figure out which product is the best choice for your AR15. The listed pros and cons will help you to compare all the options.
ODIN Works AR15 low profile gas block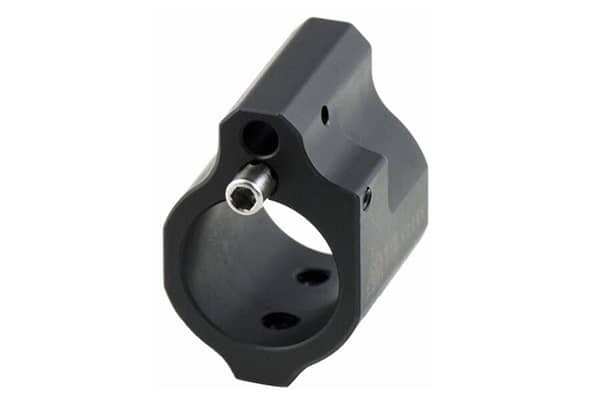 The ODIN Works low profile gas block is an adjustable block that lets you fine-tune the gas flow. It gives incredible versatility with an unprecedented number of stops, 20 different points to truly fine-tune the gas flow.
This adjustable gas block is machined from carbon steel and treated with a black nitride finish. The front-facing adjustment screw is made from the durable material, Inconel, which allows it to withstand the high temperatures created when rapidly firing your rifle.
No set screws are needed to adjust this block. The adjustment is from the front and can easily be changed with the long Allen key provided, so no need to remove your handguard. Moreover, there are various options available including those to fit .750, .875, and .936 spec gas-blocks.
I found this gas block was a bit heavier and bigger than the others. Because it's made from carbon steel rather than stainless steel, it's not the most corrosion-resistant product on the list. The Inconel adjustment screw is a great addition though.
Pros
The most adjustable gas block out there
Inconel adjustment screw for handling heat
Easy to adjust the block
A reliable and affordable choice
Cons
Not the smallest or most lightweight
Could be made with corrosion-resistant materials
SLR Rifleworks AR15 Sentry adjustable set screw gas block
The SLR Rifleworks Sentry is an adjustable gas block with a set-screw installation. This steel gas block lets you fine-tune your gas system for optimum operation with its 15-position adjustability from 0 – 0.125″ port opening.
The Sentry gas block is built with a metering system that doesn't use springs or balls but can be easily adjusted using the included tool. This metering screw bore design allows for more repeatability and reliability.
This gas block is machined from 4140 steel and given a QPQ Melonite finish. The block comes equipped with two set screws that lock the block into the barrel for the perfect gas seal. You're able to choose from .625, .750, .875 or .936 diameter sizes.
It's not the cheapest adjustable gas block on the market but it's perhaps the easiest to install. The block was also hassle-free to tune and it works flawlessly whether suppressed or not, making it one of the best AR15 gas blocks out there.
Pros
15-position adjustability
Very easy to install and adjust
Available in 4 different sizes
A very reliable choice
Cons
Not the cheapest adjustable block
Superlative Arms AR15 adjustable gas block
The Superlative Arms adjustable gas block features a patented "Bleed Off", direct impingement style. This adjusts the gas flow by bleeding the gas out of the block instead of restricting the flow, like in conventional adjustable blocks.
This low-profile gas block fits under most handguards. It gives adjustability in 30 positions and is adjusted via the front of the block. It's constructed with durable and corrosion-resistant stainless steel and comes with set screws, roll pins, and a hex key. Additionally, it's specifically made to fit 0.625 size barrels.
I found the adjustment to be easy and it felt very secure once fitted. There were no concerns about anything coming apart thanks to the captive screw and detent system. The detent gives positive feedback through its clicks and has an intrinsic stop to prevent you from completely turning the screw out.
When testing this gas block, I noticed how it reduced the speed at which heat built up, as well as reducing recoil. Overall, this block offers many great features and stands out from the crowd thanks to its unique adjustment method of bleeding off excess gas.
Pros
Low-profile design that fits under most handguards
30 position adjustability
Front adjustment
Captive screw and detent system for easy adjustment
Significantly reduces heat build-up and recoil
Great value for money
Cons
Will only fit 0.625 size barrels
Faxon Firearms AR15 low profile gas block
Faxon Firearms' low profile gas block is an ultra-low profile block designed for barrels with a standard diameter gas journal. It is made from high-strength steel and finished with a black luster.
The gas block suits all rail systems and it clamps onto the barrel using 3 Allen keys on the bottom of the block. The block is drilled through the middle of the profile for a lightweight build. It is available in 2 sizes – .625 and .750.
This gas block looks aesthetically pleasing and is lightweight, but unfortunately, I felt that it does not give the same standard of quality as some of the others on this list.
During installation, some fitting was needed. I was able to get mine to fit well but many users have reported issues with the fitting. Moreover, Faxon could also have provided a few tools for installation such as a gas tube roll pin.
Pros
Looks great
Very lightweight
Works with most rail systems
Cons
Fitting is required
May encounter problems when fitting
Not the strongest or highest quality block
Brownells AR15 nitride gas block
Brownells AR15 nitride gas block is a low profile gas block with a .750″ gas journal. It has been constructed with a 4140 gun quality steel and a Nitride finish. I found this block to be one of the most well machined of the products I tested, and I felt the finish was nice.
The gas block can be mounted to the barrel with dual set screws. The block features a honed interior for a smoother installation. Unfortunately, Brownell's gas block does not include a roll pin which is needed for mounting.
This is one of the most affordable options on the list. Considering the quality of the block and the easy installation, Brownells' gas block offers brilliant value for money. When testing, I found it to be easy to use and I was generally pleased with how it performed. This is for sure, one of the best AR15 gas blocks for quality,
performance, and price.
Pros
High-quality construction and nice finish
Easy to install
Tough and reliable
Very affordable price
Cons
Does not come with a roll pin
No additional sizes available
Bravo Company AR15/M16 low profile gas block
Bravo Company's gas block is a versatile, heavy-duty, low profile block that will fit under most handguards. It has been designed to fit both AR15 and M16 barrels and is great for rails that require an ultra-low gas block.
This low-profile gas block has been machined from high-quality steel and comes with set screws for mounting. It also features a phosphate finish for resistance from corrosion and wear. This block is available with either a .625″ or .750″ inside diameter.
The only issue I had with this block was that it was very tight and required a lot of fitting. The block looks great and feels tough and durable, so it's a shame that the installation is so difficult. In terms of price, it's quite affordable, but unless you don't mind spending a while installing the block, it may not be the best AR15 gas block for you.
performance, and price.
Pros
Looks and feels great
High-quality construction
Features corrosion and wear-resistant finish
A versatile option which will fit under most handguards
Cons
Very tight and requires lots of fitting
Sadlak Industries AR15/M16 gas block
The AR15 gas block from Sadlak Industries boosts a minimal profile so it can fit under most handguards or with an integral accessory rail. As with all Sadlak products, this USA-made block is precision honed and inspected for all critical measurements to ensure consistency and quality.
What I love about this block is that there are so many options to choose from to get the performance that works best for your AR15. The blocks are available in .625″, .750″, .875″, or .936″. You can also choose the mounting option, such as clamp-style, slip-on, skeletonized, or adjustable.
Better still, the block comes with all the attaching hardware needed. All styles securely mount to the barrel with the included set screws. The clamp-on models squeeze around the barrel as you tighten the set screws, whereas the slip-on models are anchored by the screws.
Although the vast customization options are great, a few users have reported that the block does not fit well and the sizing is not accurate. Do a bit of extra checking before pulling the trigger on this item.
performance, and price.
Pros
Many sizes available
Many mounting options to choose from
Comes with the hardware needed for installation
Made in the USA
Cons
Issues with sizing
May not give the best fit
What is an AR15 gas block and how does it work?
The gas block on an AR15 is responsible for how much gas is directed back to work the action each time the weapon is fired. It's placed over a hole on the top of the barrel of an AR15 rifle or carbine.
The performance of the gas block directly impacts the rifle's recoil, accuracy, and reliability. So how exactly does it work?
Well, simply put, the gas block is designed to direct the gas from firing the bullet from the barrel through a port, into the block, and down the gas tube. Let's explore this in more detail.
When the weapon is fired and the powder in the cartridge explodes, the bullet is driven through the barrel and past the hole.
Some of the hot gas will pass through the hole, enter the gas block, and will then be moved down the gas tube.
The gas tube will then direct the hot gas back towards you and the receiver.
The force of the gas then moves the bolt carrier group to auto-cycle the next round into the chamber. The bolt is pushed backward which causes the cartridge to extract ahead of a new round being loaded from the magazine into the chamber. This allows the weapon to be fired again.
The gas block can be described as a valve that controls how much hot gas will be directed back to the receiver. This will work regardless of which ammo you use, and even if you use a heavier or more powerful load.
Reasons to upgrade your AR15 gas block
An aftermarket gas block from a reputable industry professional will offer a variety of advantages over a standard block.
A low-quality gas block will bleed too much gas in the barrel which won't leave enough pressure to cycle the action.
To put it another way, a bad gas block will result in too little energy left to reliably eject and chamber a new round. A new, high-quality AR15 gas block will solve this problem and bring other benefits too.
Since the gas block regulates the amount of gases released during firing to cycle the next round, upgrading this can make your AR's cycle much smoother.
Other benefits you will experience from upgrading your AR15 gas block are:
Reduced recoil
Reduced wear
More ease of use
Better cleanliness
Increased accuracy
An overall more reliable rifle
How to choose an AR15 gas block
Standard vs. adjustable AR15 gas blocks
There are two main types of gas blocks: standard and adjustable. First, let's look at the standard version.
Standard gas blocks are the simpler option, which is why many shooters opt for them.
However, a standard gas block only allows a fixed amount of gas to travel through the tube. The problem with this is that it usually allows through more gas than is needed.
If the hot gas that's passing through carries with it a lot of carbon, it can cause the interior of the rifle to clog up.
By sending too much gas down the receiver, the system will still run reliably but will get rather dirty. This will result in more wear and tear being inflicted on your AR15. It will also wear out quicker.
Adjustable gas blocks can solve this problem.
An adjustable gas block allows you to more carefully fine-tune the amount of gas that enters the receiver.
By doing this, the bolt will receive the right amount of gas that it needs.
You can then decrease how much carbon gets into the system as well, so cleaning your AR-15 will be much less of a hassle.
They also create far less recoil than a standard model. Moreover, they enable a direct gas impingement to run much more smoothly.
The biggest drawback to these adjustable versions is that they require more maintenance and take longer to operate.
Whether you choose a standard or adjustable gas block will depend on what you use your rifle for, and how frequent that use is.
Overall, standard gas blocks are good for duty rifles as they give very reliable operation. It's worth noting that you can find very high-quality standard gas blocks too. If you are a casual shooter then these may be the best AR15 gas blocks for you.
On the other hand, for serious shooters, especially those who use their rifle for competition or target shooting where precision is highly valued, an adjustable gas block will give you that perfect accuracy you need.
Types of adjustable AR15 gas blocks
There are two main types of adjustable AR15 gas blocks that you will come across. Your new adjustable gas block will either be a low profile style or a front sight style. Let's explore the differences between the two.
Low profile gas blocks
Low profile adjustable gas blocks give you many different adjustment points, allowing for almost maximum adjustability.
They allow full-length free-float handguards to be used on your rifle when you install them.
Low profile gas blocks are compact as they are designed to fit under long free float handguards.
They can replace A2-style front sights if you're looking to move away from traditional drop-in handguards.
As these types of gas blocks are made with less material, meaning they have less mass, any imperfection or weakness in the medium can result in the gas block failing prematurely.
Because of this, if opting for a low profile system, you should look for gas blocks that are precisely machined from high-quality stainless or carbon steel and feature tough finishes like phosphate and nitride.
Front sight bases
Railed gas blocks, also known as Picatinny front sight gas blocks are pretty much low profile gas blocks with a Picatinny rail installed on them.
This system is a brilliant choice if you have a set of detachable flip-up iron sights you'd like to use.
It's worth keeping in mind that this Picatinny rail will often be at a much lower plane than the upper receiver.
This front sight style is useful if your rifle doesn't have a front sight or the option to install one. With this front sight base, you can easily install it by adding the gas block.
Or, you can go the traditional route and get the old-style front sight base that has that iconic a-frame sight right on the gas block.
AR15 gas block mounting systems
As well as the different types of gas blocks, you will also find different mounting/attachment systems for AR15 gas blocks. There are two common methods for attaching a gas block to the barrel – either by slipping it on or clamping it on.
Slip-on style gas blocks, also known as set-screw, are the most popular type and usually more stable and reliable.
Slip-on models simply slide down the barrel and are anchored by set screws on the underside.
The downside to slip-on gas blocks is that the tolerances can be very tight. You'll likely need to hone the gas block a little bit so that it can slide into place.
Clamp-on style gas blocks also slide down the barrel to position into place. However, with this type, there is a small gap in the gas block which makes it easy to accommodate for tolerances, unlike the slip-on models.
The negative aspect of clamp-on gas blocks is that the clamping action isn't as strong as the slip-on style, and they tend to be a bit bulkier too.
How to tune an adjustable AR15 gas block and when to do so
Most rifles are over-gassed, which means more gas flows through the system than necessary.
Over-gassed rifles will produce more recoil. More gas flowing rearwards means more force, and more force results in feeling more recoil. Recoil makes it harder to control your rifle, which significantly reduces your accuracy. Recoil will also wear out your internal components faster.
Furthermore, an over-gassed gun is also going to get hot and dirty much quicker. That extra carbon build-up also makes the rifle less reliable and increases the chance of rifle failure.
An adjustable gas block allows you to fine-tune the gas needed, and the procedure is pretty simple. If you notice your rifle is over gassed, it may be worth investing in an adjustable gas block and fine-tuning the gas flow. Here's how to do so:
Load a magazine with one round to test how it cycles. Look for how reliably the round cycles the action and if the bolt locks to the rear with an empty magazine.
If the weapon cycles perfectly and the bolt locks to the rear, restrict the gas flow by a ½ turn of the adjustment screw.
Repeat loading and firing, observing cycling and the bolt locking to the rear. Restrict the gas system another ½ turn.
Continue repeating until the bolt does not lock backward on an empty magazine. Once you reach this point, open the gas system ¼ turn.
Repeat the test. If it locks back then this is your optimal gas setting. On the other hand, if the bolt still fails to lock to the rear, open adjust the system another ¼ turn, and this will be your optimal setting.
Lastly, run a magazine through the weapon to ensure it cycles reliably.
AR15 gas block sizes
Gas blocks come in various sizes. For the best fit, you'll need to ensure your gas block is the appropriate size for your barrel. The sizes you will come across are:
.750 – This is the best size if your rifle has a medium or standard barrel.
.936 – This size is most suited to heavy bull barrels.
.625 – This is ideal for pencil barrelled rifles.
.875 – This is used for customized barrels, it is very uncommon.
AR15 gas block material options
Gas blocks can be constructed with different materials. These are the most common ones:
Aluminum – This is the weakest material so not recommended for a gas block. Repeated heat cycling would likely cause an aluminum gas block to quickly loosen.
Carbon Steel – This is probably the most popular choice for an AR15 gas block. It's durable and stays secure after repeated heat cycling. However, carbon steel is prone to rust so it may erode quicker than other materials.
Stainless Steel – This is much more resistant to rust than carbon steel, and it's very chemical resistant too. It also gives superior durability over carbon steel. However, it's more difficult to machine and is more expensive.
Titanium – This is the most durable material and it is extremely chemical and corrosion-resistant. It's much stronger than carbon steel but also 40% lighter. However, as it's the best quality, it is the most expensive.
AR15 gas block finishes
The purpose of the finish on a gas block is to protect it from wear and corrosion. As gas blocks are subjected to very hot, high-pressure gases, the finish is an important consideration.
There are numerous finishes that a gas block may have. In most cases, phosphate or nitride finishes are more than adequate, as they give good enough protection from corrosion and heat. A phosphate finish is the most popular choice because of its cheap price, however, nitride is stronger.
Furthermore, some materials like titanium and stainless steel don't require a finish as these materials are already corrosion resistant.
Other ways to upgrade your AR15 gas system
As well as installing a new gas block, there are two other upgrades you can make to your gas system.
Gas tubes: This is an essential upgrade if you're using a direct impingement system. When hot gases pass through the gas block, they then travel through the gas tube to the receiver. They're subjected to extreme pressure, high temperature, and dirty carbon. Upgrading to a high-quality gas tube will resist the corrosion and gunk created from this, and make your rifle easier to clean.
Piston Kit: A piston kit is an alternative to the direct impingement system that works with less heat and less corrosive gas entering your receiver. It's a worthy upgrade if you want a cleaner operation.
Buffer system: Your buffer system must be tuned with the right weight to match your gas system.
These options will make your gun run more smoothly, increase its reliability, and reduce wear and tear.
How to install a pinned AR15 gas block
If you're unsure how to install your new pinned/ set-screw AR15 gas block, here's a simplified step by step guide to the process. Be sure to also check the instructions that came with the product.
First, use an Allen wrench to loosen both set screws.
Then, using an armorer's hammer, tap on the gas block near the muzzle. The gas block should not dislodge.
Slide off the gas block carefully then install the barrel nut. I recommend following the manufacturer's instructions for this step.
Now, slip the gas block over the muzzle then center the gas block with the upper receiver of the AR-15.
Using your hammer, tighten both set screws from the underside.
Take the roll pin and line it up with the hole through the bottom of the gas block.
Hold the roll pin and your size 4 starter punch, then tap until the pin is centered in the gas block. It should now be installed!
Summary – Which is the best AR15 gas block?
From reviewing the 7 AR15 gas blocks above, I realized how much gas blocks can vary greatly in quality and fit. The one that easily stood out from the rest was the SLR Rifleworks Sentry adjustable gas block.
This block is super easy to install and gave no issues with fitting, unlike many of its competitors. It works flawlessly, is extremely reliable, offers 15-position adjustability, plus 4 different size options. Although this is one of the most expensive options, I think in this case, it's worth spending a bit more to get the very best on the market.
By following this guide, you too will have learned how to find the best AR15 gas blocks on the market. From the information in this article, you'll have deepened your understanding of the different factors of gas blocks, enabling you to choose the best AR15 gas block of 2020.
About the Author