Someone once said to me: "Learning to shoot with iron sights has two major benefits. First, you always have them as a backup. Second, having experience aiming with irons makes you appreciate how awesome your red dot sight is."
Putting a red dot sight on your AR-15 will boost your accuracy and speed when shooting – and who doesn't want that when they're out in the field?
Best AR-15 Red Dot Sight for Under $200
One of the best things about red dot sights is that they're cheaper than many other sighting systems. You can pick up a fantastic sight without shooting a hole in your bank balance.
We've played around with some of the best budget red dot sights on the market and put together reviews for each of them to help you choose the right one for your needs.
Benefits Of A Red Dot Sight For Your AR-15
Each sighting system has its own pros and cons. With a red dot sight, you're getting fast target acquisition and improved accuracy. They're devastating for targets within 100-yards and they can be paired with a magnifier to help you snipe targets further out.
Increased accuracy
You'll be able to place targets quicker and shoot with more accuracy if you have a red dot sight on your AR-15. The sighting system is one of the most effective ways to improve shot placement in close-quarters engagements.
Both eyes open
Picking your target with a red dot sight can be done with both eyes open, giving you a full field of view when aiming. Being aware of everything going on in front of you is massively beneficial while shooting.
Unlimited eye relief
You can put your head as close or as far as you want to the optic when shooting with a red dot sight, giving you more flexibility when aiming and allowing you to acquire targets faster.
No parallax
When you move your head while aiming with a red dot sight, the reticle moves with your view. This means that you'll still be aiming at your target and you don't need to keep your head in a fixed precise position when aiming.
Affordable
When it comes down to the money, red dot sights have a big advantage. You can get one for as little as $20 or you can spend $500 on one. Budgeting is a concern for most of us shooters. I mean, be honest, this isn't the first article you've read about upgrading you AR-15, is it?
An accurate sighting system is a big tick off your list of improvements to make to your rifle and if you can get it without having to explain to the wife where the savings went, then all the better.
How to Install a Red Dot Sight on Your AR-15
Wolverine Red Dot Sight From OpticsPlanet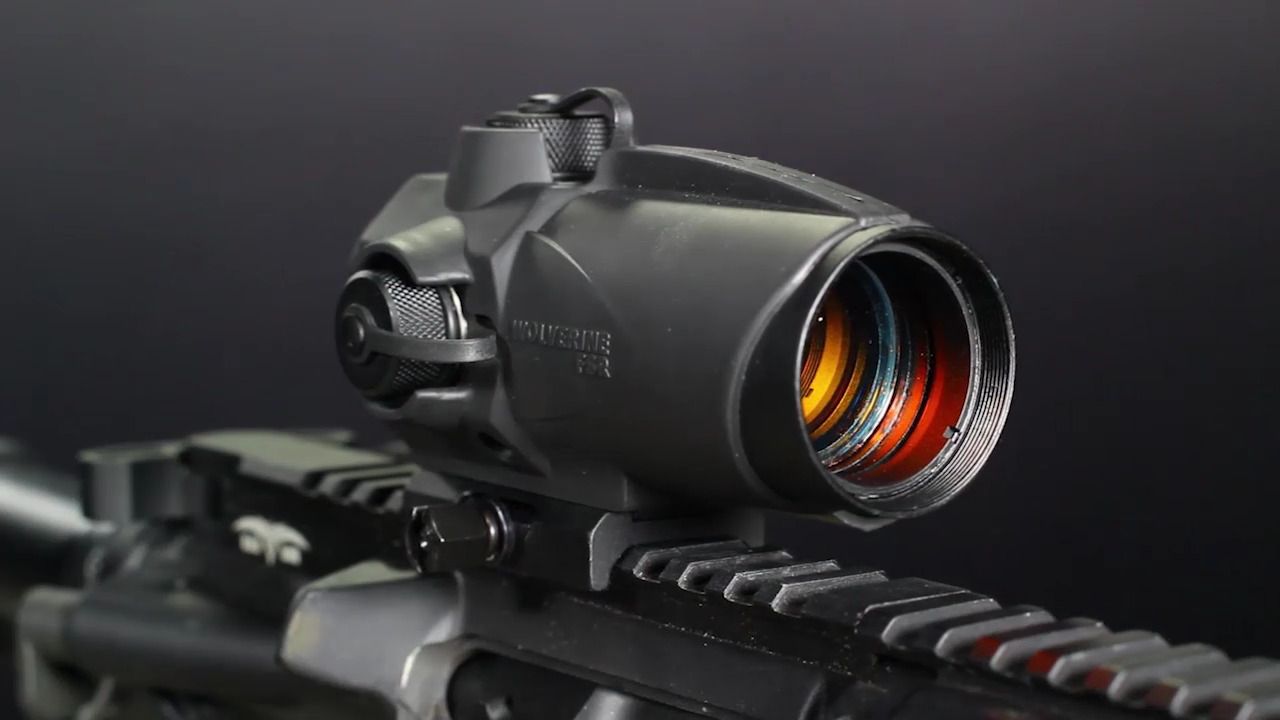 It's easy to mount a red dot sight on your AR-15. You'll need to buy one that fits onto your rail. Once you've got a red dot sight that fits, it's just a matter of screwing it on… and making sure it doesn't fall off when you shoot.
Your rifle vibrates when you shoot and this can cause the screws in your red dot sight to loosen. Here are some ways to avoid this.
Use threadlocker on your screws when mounting your red dot sight. This stops the screws from coming loose and helps you to keep zero.
Blue Loctite is great for this – but make sure you don't use red Loctite or you'll never be able to remove the sight!
Push your sight forwards while screwing it on to secure it in place and stop it from moving due to force from recoil.
Difference between a Red Dot Sight and a Holographic Sight
At first glance, red dot sights and holographic sights look similar. They aren't. Red dots are simpler and usually much cheaper than holographic sights. Holographic sights work much better with a magnifier.
The MOA of a holographic sight is generally smaller than that of a red dot sight which makes the former a better sighting system when shooting at long-range.
Red dot sight
Reticle made from LED laser
Usually 2 MOA dot
Aim at the dot to hit the target
Very long battery life
Holographic sight
Reticle made from laser hologram
Usually 1 MOA dot
Reticle superimposed on the target
Comparatively short battery life
MOA and Red Dot Sights
MOA, Minute of Angle, determines how large your red dot is. Most red dot sights have a 2 or 3 MOA reticle . I recommend you stick with 2 MOA so that the dot doesn't get in the way of your target. Large dots are useless when aiming at faraway targets.Red Dot Sights Increased in size with a magnifier. For example, if you have a 2x magnifier, then your 2MOA dot will now be 4MOA. This continues to increase the more you magnify your red dot. Holographic Sights Don't have this problem and that's one major reason why some shooters prefer them.
AR-15 Red Dot Sights Clarity and Sharpness
The clarity and sharpness of your red dot will depend on the quality of your optic – and your eye. It's not uncommon for shooters to see a fuzzy red dot when aiming and this can actually be down to how the light reflects in your eye.
If you don't have a perfectly spherical eye, then you'll see the reticle as fuzzy and the chances are you won't be comfortable using red dot sights. This isn't often taught to shooters and some of them go through multiple sighting systems with no idea why they can't tango with them.
Weight of Red Dot Sights
You want a lightweight red dot sight. All those extra accessories on your AR-15 do stack up in pounds and this will affect your performance in the field. Having less weight on your rifle will also help you to shoot more accurately.
Brightness Settings on Red Dot Sights
Shooting in broad daylight? You'll want a very bright dot. Most red dot sights come with multiple brightness settings to allow for a clear reticle in any amount of light.
You can also buy a sight with a green dot. The change in color is considered by many shooters to be easier to see in bright light.
Some red dots also have night-vision settings. Obviously, this is a big bonus and certainly worth investing a little more for.
Battery life of red dot sights
One thing you'll never have to worry about is your red dot sight running out of juice. Most of them have tens of thousands of hours of battery life.
The LED laser powering the sighting system doesn't drain much energy, allowing you to have a reliable sight, even if you forget to turn it off after using it.
Battery-free red dot sights
Tens of thousands of hours of battery life isn't enough for you? Well then, get one that doesn't even need batteries.
There are two options here: buy a solar-powered sight, or buy one that uses glow-in-the-dark tritium and fiber-optics. You'll never be caught off guard if you can never run out of batteries.
Waterproof-rating of red dot sights
The waterproof-rating of a red dot sight will matter more to some of you than to others. Your sight is going to get rained on at some point, so you need it to be able to resist the elements.
That being said, it's not like you're going diving with your AR-15, so while a waterproof-rating of 30-meters isn't a bad thing, it's also not worth paying extra money for.
Most red dot sights have a waterproof-rating of at least 10-meters
Warranties for red dot sights
Nothing lasts forever and problems do arise. A long warranty means peace of mind, so if you can, try to get a red dot sight with a generous policy.
Most mid-range and above red dot sights come with a good warranty that guarantees you repairs if it breaks due to factory deficiencies.
The Best AR-15 Red Dot Sight Reviewed
Overall, the Vortex Optics Crossfire Red Dot Sight takes first place as the best red dot sight on the market for under $200. The sight is affordable and provides many of the benefits of a premium red dot sight.
The Crossfire has plenty of brightness settings, including night-vision support, and it can work for 50,000 hours before you need to change the battery.
If you want a simple, no thrills, and accurate sighting system for your AR-15 then I strongly recommend that you try this one out. It'll take your shooting to the next level.