At a Glance: Best Night Vision Scope
Comparison of The Best Night Vision Scopes
PRODUCT
DETAILS

Our Top Pick

EOTech – M2124/PVS-24 Night Vision Clip-On Scope

Gen III night vision
A compact and lightweight device
Can be mounted in front of a daytime optic
Has adjustment wrenches
Available in standard or long-range

View Latest Price

Our Top Pick

Sightmark Wraith HD 4-32×50 Digital Riflescope

video recording capabilities, resolution 1080×720 pixels
10 reticle options and 9 color choices
Weather Resistance and Shot proof
200yds Night Vision Detection Range

View Latest Price
Sightmark – Photon XT 6.5x50mm digital night vision rifle scope

Day and night usage
Impressive 6.5x magnification
Precision placement at a medium-range
Crisp detailing up to 200 yards
Shockproof and waterproof construction with long eye relief

View Latest Price
Our Guide To The Best Night Vision Scopes
Shooting at night can be a fun and exciting activity, or just a very effective way to hunt. A night vision scope is an extremely useful piece of equipment for hunting in low light conditions. Night vision scopes can be used for hunting, target shooting, and even security and tactical work.
By the end of this article, you will know what a night vision scope is and how to find the best night vision scope for your AR15. I have reviewed and tested the most popular scopes available from ATN, EOTech, Pulsar and Sitemark, to help you find the best riflescope in the industry.
EOTech M2124/PVS-24 Night Vision Clip-On Scope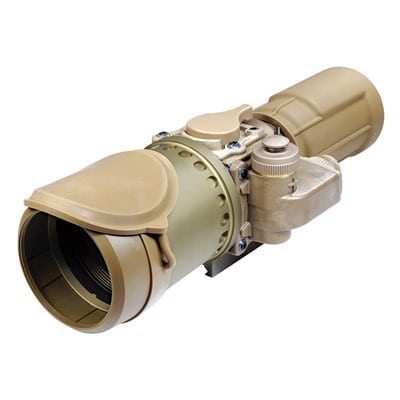 Combining day and night vision sights with this EOTECH – M2124/PVS-24 Night Vision Clip-On. This night vision device is a rugged, clip-on Gen III night vision device used by the U.S. military and guarantees quality and performance. The manual gain and focus adjustment of the scope allows you to optimize the sight picture.
The M2124 is available in both a standard model and a long-range model. The standard model has a detection range of 328 yards in a 40° field of view. The long-range model is optimized for 4x-20x magnified riflescopes, with an 8° field-of-view and a detection range of nearly 1,600 yards.
What makes EOTech's scope stand out from the rest?
This riflescope clips onto the firearm rail in front of your daytime optic. This means you don't have to remove your daytime optic to use the M2124. Being able to keep your primary sight on your rifle is useful and time-saving as there is no need for re-zeroing. Moreover, it allows you to always maintain correct eye relief and consistent head positioning.
EOTech's M2124 night vision scope is a compact and lightweight device that can be easily attached to a 1913 Picatinny rail interface system through its quick locking, single-throw lever-mounting system. Both models can be used as a handheld observation device.
Pros
Gen III night vision
A compact and lightweight device
Can be mounted in front of a daytime optic
Has adjustment wrenches
Available in standard or long-range
Great battery life, approximately 16 hours
Sightmark Wraith HD 4-32×50 Digital Riflescope
Sightmark Wraith HD 4-32×50 Digital Night Vision scope is their new revolutionary and versatile digital riflescope. Perfect scope for day and nighttime use designed for all hunting. Customize your riflescope with 10 reticle options and 9 color choices to fit your needs.
The monoculars can operate both in the passive mode, without infrared illumination, or in active mode with its built-in, high-powered infrared illumination. The IR illuminator can be used in both low ambient light conditions and total darkness.
4.5-hours of battery life with 4 AA batteries. For extra power, this scope comes with an external Micro USB port. Added features include a color mode for daytime shooting, black & white, or classic green, and comes with a removable 850nm IR Illuminator with a detection range of 200 yards.
The scope has been constructed with high-quality polymer for endurance and weighs 2 Pounds. It has 10 reticle options and 9 color choices
Pros
Mounting and setup were very easy and fast
Lots of reticle choices, 10 options
Excellent value
200yds Night Vision Detection Range
Fixed picatinny mount, IR flashing, User Manual, Objective Lens Cover Included
Cons
Long-range detection is not strong
Not the sharpest contrast and detail
Sightmark – Photon XT 6.5x50mm digital night vision rifle scope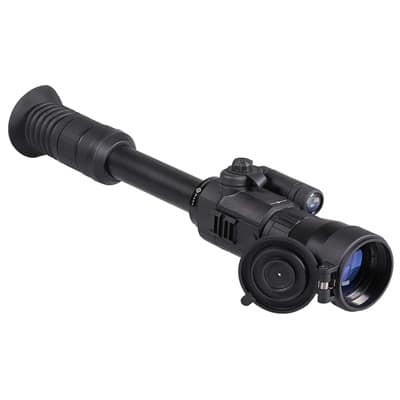 Sightmark's Photon XT digital night vision riflescope is a distinctive and versatile scope that provides precision placement at a medium range and offers crisp detailing. A unique feature of the Photon is that it can be used in both daylight and darkness as it is resistant to bright light exposure, and it provides long eye relief too.
The futuristic-looking Photon boasts an impressive 6.5x magnification, large 50mm objective lens, and a higher-than-average 640×480 resolution which allows for optimal brightness and vivid detailing up to 200 yards. The lightweight design of the Photon XT makes it 20-30% lighter than most scopes on the market, as well as possessing a 30% longer battery life than its competitors.
You can choose from 6 digital reticle styles in white, red, and green. These are 2 crossbow reticles, 2 duplex reticles, a Mil-Dot reticle, and a German-style reticle. This opens up to you a vast range of long-distance applications including hog and varmint hunting as well as rangefinding.
If that's not enough, the scope's video output feature allows you to capture everything you see. Additional accessories can be connected to the scope's integrated weaver rail. Overall, it's a great value optic for short-range hunting, and it's even better for shooting small targets at night. It will work best on a modern style rifle with a full-length scope rail, as it is rather long.
Pros
Day and night usage
Impressive 6.5x magnification
Precision placement at a medium-range
Crisp detailing up to 200 yards
Shockproof and waterproof construction with long eye relief
Supports video output for recording
6 digital reticle styles to choose from
Great value for money
Cons
The placement of the controls is not ideal
The manual lacks instructions on how to actually use the scope
Pulsar – N750 digital night vision weapon sight
The Pulsar Digisight N750 is a digital night vision riflescope engineered with advanced technology to allow easy operation in all lighting conditions from daylight to complete darkness. The IR illuminator provides bright light for a clear, precise focus on any size of target.
This scope from Pulsar has all the features you can think of including a Sum Light™ function which automatically increases the CCD array's sensitivity under low light conditions, increasing the viewing distance significantly. You'll also find a wireless remote control operation, a video output function, built-in and external power supplies, and an intuitive easy-to-use interface.
The N750 also boasts a high-power digital zoom that can increase the magnification from 4.5x to 6.75x. This offers a more precisely placed shot for long-range shooting. In fact, the Digisight N750 is one of the best night vision riflescopes for long-range targets as the maximum detection range is 600 meters.
Another highlight of the high-tech N750 riflescope is itinins quick and effective one-shot zeroing method. With this riflescope, I found I was able to zero in very quickly and with very little margin of error. The optical characteristics of this scope are brilliant too, especially the 50 mm focusable lens and 67 mm eye relief.
Pros
Advanced technology with the widest range of features
Day and night usage
One-shot zeroing method
Sum Light™ mode to automatically increase CCD array sensitivity
High-power digital zoom up to 6.75x
50 mm focusable lens
Maximum detection range is 600 meters
A great option for long-range shooters
Cons
Quite heavy compared to other scopes
Bigger and bulkier than other options
Pulsar Digex N455 Digital Night Vision Riflescope
The Digisight N455 from Pulsar is a night vision riflescope designed in the shape of a classic day sight. As it's a digital night vision riflescope
sthat is designed to mount at the lowest possible point. The built-in IR Illuminator gives this scope enhanced nighttime sensitivity with a 1280×720 HD Sensor and 4x Magnification to 16x Variable Magnification. Fantastic for shooting in complete darkness and detecting animals to over 546 yards.
Magnification: 4 – 16 x
Objective Lens Diameter: 40 mm
Reticle Focal Plane: Second Focal Plane (SFP)
Feature a built-in recorder to capture still images or HD quality video. Use your smartphone to download an app and connect to your scope via Wi-Fi. The expected battery life is 4.5-5.5 hours, but it was much less when I tested it. The Pulsar N455 is one of the fanciest and best night vision riflescope for your AR-15.
Pros
Feature a built-in recorder to capture still images or HD quality video
Connects via Wi-Fi to mobile devices
Over 10 different reticle types
Fully Waterproof IPX7
Cons
Shorter battery life then expected
Not for long-range shooting
ATN X-Sight 4K pro smart day/night rifle scope
The X-Sight from ATM combines advanced technology with traditional scope styling to bring you one of the top-quality night-vision scopes on the market.
It's powered by a Dual-Core processor with a low light 4K sensor that offers unprecedented image performance. That gives you higher resolution, faster optics, and millions of vivid colors. It is capable of up to 120fps and non-pixelating digital zoom for a great image at any distance.
The X-Sight boasts a dual-stream and a video recording feature. This lets you stream to your mobile device at HD resolution while recording to an SD card.
Other smart features include a ballistic calculator, a smart range finder, RAV (Recoil Activated Video) for automated recording before and after shooting, and an ultra-low power profile offering over 18 hours of continuous operation.
Unfortunately, because of all the smart features, this scope is not the easiest to operate. If you are tech-savvy, you'll be fine. However, for shooters not so experienced with high-tech, you may experience some frustration with the setup, learning the menus, and upgrading the device's firmware. The instructions included were not very helpful or easy to follow either.
Pros
Dual-Core processor with low light 4K sensor
High resolution and fast optics
RAV (Recoil Activated Video) automated recording before and after shooting
Great battery life: 18+ hours of operation
Dual-stream and a video recording feature
Can be used at any distance with its non-pixelating digital zoom
Cons
Not an easy to use device, takes a while to get the hang of
The instructions are not clear or easy to follow
Potential issues with device upgrades
Firefield NVRS 3×42 Gen 1 night vision riflescope
The Firefield NVRS 3X42 is a Gen 1 night vision scope with a large 42mm lens for higher light-gathering capabilities, and an impressive magnification that can zoom in up to 3 times magnification.
It has an inbuilt, high power IR illuminator which gives high-quality images and resolution of medium to long-range targets. The multi-coated optics combined with an illuminated red duplex reticle has incremental brightness and adjustment allowing you to quickly adapt to your surroundings with a thorough awareness.
The detection range of the NVRS is up to 100-yards, and up to 80 yards with the IR illuminator. This scope is constructed with high quality and durable titanium and has a quick detach weaver mount for easy removal. Moreover, the scope features a flip-up lens cover to shield it from impact and harsh weather conditions.
The battery life is brilliant, giving an excellent 20 hours with IR and 50 hours without. This is perhaps the most durable scope on the list. The ergonomic design makes it resilient against even the harshest shooting situations. It's also water-resistant with an IPx4 rating.
Pros
42mm lens for light gathering and 3X magnification
A flip-up lens cover which protects from impact and harsh weather conditions
Enhanced multi-coated optics
Illuminated red duplex reticle
Built-in IR for a high powered advanced range of up to 80 yards
Quick detach weaver mount
20 hours of battery life with IR
Water-resistant and highly durable
Good at holding zero
Cons
One of the heaviest scopes on the list
Mounting the scope may prove difficult
Images can be slightly blurry around the edges
ATN X-Sight II HD 3-14 smart day/night riflescope
This ATN X-Sight II AR-15 digital night vision scope features a 5-20x zoom and 85mm objective lens. The smooth zoom gives a fine-tune 3-14 magnification for perfect adjustment. Whether you're using it during the day or at night, the X-Sight II gives crystal clear vision thanks to its HD technology.
The X-Sight boasts a 1000 yard field of view and its brilliant optics will easily adapt to your situation and conditions. The smart range finder identifies the range to your target with just two clicks. Once the distance is determined, it will automatically adjust your point of impact.
The in-built ballistic calculator lets you quickly calculate and determine the exact ballistics for expert long-range and angled shots. Other features of this high-tech HD scope include 1080p HD video recording, recoil activated video (RAV), and Wi-Fi streaming.
On top of the smart features, the ATN X-Sight II has a very durable case and nice aesthetics. This scope gives a lot for its price, making it a great value for money option.
One disappointment I found was with the battery life. Compared to other scopes on the list, the battery life of the X-Sight is poor, meaning a battery pack is a must. Additionally, I found zeroing in was harder initially compared to others, and it did take me a bit of time to work it out.
Pros
Day and night vision scope with HD resolution for clear images
Ballistic calculator to help you calculate ballistics
Smart range finder to easily identify the range to your target
Excellent night vision scope for mid to long-range
3-14 magnification with a smooth zoom
Cons
Battery life is poor
Zeroing in can be a bit of a challenge at first
What Is a Night Vision Scope?
Night vision optics is a shooter's ultimate tool for shooting in the dark. Night vision scopes collect and intensify ambient light such as starlight, moonlight, and any other light in the night sky.
Collecting this light is what allows you to see in the dark. The light enters the goggles and hits a photocathode.
The photocathode then turns the photons of this light into electrons.
The electrons are then amplified by a photomultiplier, creating more electrons.
These electrons then hit a phosphor screen, creating bright flashes of light and forming the picture you see.
Some night vision riflescopes also use infrared light to help illuminate a field or target in the pitch black, especially on moonless nights. The infrared light is invisible to the eye, but through a night vision scope, it looks like a spotlight.
A night vision scope uses an Image Intensifier Tube (IIT) to amplify photons of light, giving you a clear picture of your target and your surroundings, even in the darkest conditions.
Many styles of night vision scopes cannot be used in bright light such as daylight because it will damage the intensifier tubes. When a live animal is detected, visible light energy bounces off the game and the detector receives it and turns it into an image of the animal.
Why do you need a night vision scope for your AR15?
When shooting, it's vital to always be sure of your target and what's behind it.
If you hunt at night in the wild or the forest, you will most likely find it hard to see especially in a bushy environment and unpredictable terrain.
Not having a clear view will not only make aiming and shooting much more difficult and worsen your experience, but it creates a safety issue too.
Using a good night vision scope gives you the ability to positively identify your target.
Night vision gives you more detail than thermal vision. You can identify more fine details of animals, people, and the environment with night vision.
A night vision scope also allows you to film and stream your hunts.
What is the best night vision riflescope generation?
One main difference between AR-15 night vision scopes is the generation. There are three different generations that you should learn about when looking for A night vision scope for the AR15.
Generation 1: These night vision riflescopes use intensifier tubes rather than the simple process of amplifying information.
Generation 2: These scopes include a microchannel plate that multiplies the electrons.
Generation 3: These scopes come with the same microchannel plate as the gen 2 but have the addition of a Gallium Arsenide Photocathode which creates more photoelectrons compared to the earlier generations.
In general, the lower the generation the lower the price, therefore, the cheapest devices are usually generation 1 scopes. Other than price, here are a few key differences between each generation.
Generation 1
Generation 1 night vision scopes are created with image intensifier tubes that have very simple configurations.
Gen 1 scopes provide the lowest light amplification, gain, and image resolution
They are the most popular and widely used among hunters.
Despite the lower quality, Gen 1 scopes are usually satisfactory for most hunters' needs.
Generation 2
Generation 2 night vision scopes are enhanced by a microchannel plate (MCP).
The MCP boosts the light gain of an image tube by about one thousand times.
This gives a brighter and clearer picture and is therefore suited to more advanced hunters.
Generation 3
Generation 3 night vision scopes are military-grade.
They give the longest range and the best resolution.
Gen 3 scopes run without an IRI
They function in all light conditions including daylight.
They are more versatile, durable, and last the longest.
In summary, Gen 2 and Gen 3 night vision scopes offer better light amplification and performance than Gen 1. Nonetheless, a high-quality Gen 1 device can provide enough light for most hunters.
How to Pick the Best Night Vision Scope for the AR 15
There are certain things to take into consideration when looking for a great night vision scope for your AR15. Here are the 4 most important points to think about before making your purchase.
Budget
Night vision riflescopes are typically much more expensive than standard scopes. This is because the technology used is very innovative to produce such a high-quality product.
The price of night vision riflescopes can vary greatly in price depending on which generation the scope is.
One of the first things you should consider is how much you are willing to spend.
If you are on a low budget, you will want to look for Gen 1 scopes that are very affordable.
If you want to invest in the best AR-15 rifle scope on the market, you will want to look at Gen 2 and Gen 3 devices.
Use case
People shoot for different reasons such as hunting, tactical shooting, or recreational use. The reason you shoot will make a difference in the type of riflescope you need.
If you shoot for recreational purposes, a cheaper optic with lower clarity and a simpler design will be sufficient for you.
If you're a hunter you will want a crystal clear optic with decent magnification to produce a crisp image. An IR illuminator is a must for hunting with night vision.
For tactical shooting, you'll need the clearest view possible. This means you should only consider optics that are high-end Gen 2 at the least, but preferably Gen 3. These optics allow for surveillance and observation of a target.
Resolution
The resolution of an NVS enables the device's intensifier system to differentiate between different objects that are close together.
The higher the resolution, the sharper, and clearer the image will be.
Resolution is measured from the center of the optic. Around the edges, it's common to see some distortion and lack of clarity.
Magnification
The magnification level determines how far into the distance you can see.
Magnification of an NVS will typically be anything up to 15x with digital zoom.
The higher the magnification, the less clarity in the image therefore, if you're not shooting far into the distance, it's better to get a scope with a mid-level magnification.
If you usually shoot close range, a high-level magnification will slow you down and make it more difficult to spot your target.
The higher magnification a scope has, the heavier, longer, and more expensive it will be too. Choosing a scope with high magnification is really only needed if you are shooting at very long ranges.
Best Quick Detach AR-15 Scope Mounts Reviwewed
How to set up a night vision scope for the AR-15
Setting up a night vision scope should not be a difficult task. By following this step by step night vision rifle setup guide, you'll be able to get your new scope ready for action with minimal time or stress.
First, mount your riflescope to your AR-15.
Then adjust your mount to get the best image possible. You're looking for as close to a perfect green or white "circle" as you can get with the picture. Move the unit up, down, and side to side until you get it where you want it.
Then, set your gain by adjusting the amount of brightness.
Now it's time to set the focus. If your scope has an ocular housing lock ring, loosen it and slowly spin the eyepiece until the image through the reticle becomes fuzzy. Then point your rifle towards the sky with no target in sight. This will keep the eye relaxed because pointing towards a target will automatically focus on it.
Turn the eyepiece in until the image that you see in the reticle becomes clear and sharp.
Then, slowly lower your rifle, close your eyes, then slowly point it towards the sky once more as you open your eyes. The image that you see through your reticle now should be sharp and clear.
Now, you should be good to go.
It's important to note that night vision can only be focused at one distance. That's why it's best to focus far away so you can see in the distance with greater clarity. However, that means the closer you get to a target, the less focused it becomes. For example, you won't be able to see your hands under night vision clearly if you're focused on a faraway range.
As all AR-15 night vision scopes are slightly different, it is advisable to thoroughly read the instructions included with your scope.
What Is the Best Night Vision Scope for an AR?
All the scopes I reviewed and tested were great quality devices possessing high tech features and high resolution. With such top contenders, it's hard to choose just one as the best scope for the AR-15.
The truth is, the best NVS for you will be the one that best meets your needs. For me, it's the Pulsar – N750 digital night vision riflescope. Having a scope that I can use in all lighting conditions is a winner for me and I particularly liked the N750's Sum Light function, high power zoom, and one-shot zeroing method.
As someone who shoots long-range, I found that with the long detection range and the magnification of the N750, I can shoot into the distance with the utmost precision. This is a key difference I noticed between this scope and the others. For that reason, the Pulsar N750 is the top choice for night vision scope for my AR-15 rifle.
Finding the right night vision scope for the AR15 doesn't need to be hard or confusing. With this guide, you will be able to consider your usage and budget, and then explore the options that meet your needs the best to find the right scope for your rifle.