Part of the attraction of the cold war Mosin Nagants is that they are excellent rifles for the typical $70-$100 street price, but the even bigger draw is that the ammo, which is comparable ballistically to the .308 or 30-06, can easily be had for a stunningly low $.25 a round. At this point in time there is no other large centerfire rifle that is this inexpensive to shoot.
When you first get your hands on a Mosin, you're just thrilled that you've found a powerful centerfire rifle that only set you back around $100. Then you'll dance until you got a leg cramp after buying an entire SPAM can of 400 rounds for only another $100. Honestly, in that initial ownership period, you really don't care how it shoots, when it was made, or by which European factory. You're just thrilled that it goes bang each time you pull the trigger.
Once you get over the initial fun factor, you'll probably start looking at upgrades for the rifle. Upgrading a Mosin Nagant is an amazingly fun project that nets a gun that can hunt any North American large game easily out to 300 yards and beyond.
Accuracy
Before I get into the details of my upgrades, I'm sure you're dying to know if any of what I did was worth it. So, what kind of accuracy did I achieve? My best was a 2.23″ 5-shot group at 300 yards with Hornady's 7.62x54R ammo, which is seriously impressive. Also note that I am still able to consistently manage 3″-4″ groups with the surplus SPAM can ammo. Let me tell you, it's something unlike anything you can imagine when you know that you've transformed a $100 rifle into a precision long-range tool that lets you vaporize clay pigeons at 300 yards.
This build started when a friend presented me with a 1930s 91/30 Mosin Nagant just because he wanted to see what I could do with it. On the 100 yards range, the stock Mosin managed to keep all the bullets within the 10″ pie plates used as targets.
Scope Mount
After a little research, I learned that all the Mosin nerds seemed to have the highest regard for Rock Solid Industries, so I placed a call. What I received from the owner, Ken, was much more than "What's your credit card number?" Ken downloaded about three years of Mosin R&D into my head in about ten minutes. In the end, I not only ordered the Rock Solid Mosin Scope mount, but also their bedding pillars, hex receiver bolts, and their bolt weld service, which transforms my bolt handle into a scope clearing bend. I sent in my bolt and about a week later, I received my old bolt back with the handle rewelded to a scope friendly position, along with the other Rock Solid Parts.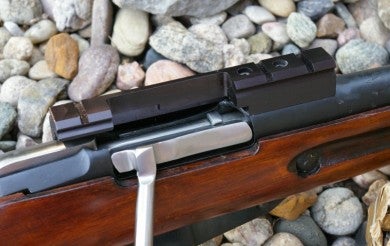 The Bluegrass Tactical Stock is a TRG sniper style stock made from solid hard rock maple. It features a deep palm swell with a comfortable grip material added on the grip and handguard. The stock also free-floats the barrel, which maximizes the accuracy of the Mosin Nagant. Currently the stock is available in black, OD green, a beautiful natural finish, and upgraded custom woods, as well.
So here we have a $1,000 Mosin Nagant that some would say I am nuts for building and putting this much money into. Still others would claim that I have perverted the purity of the historic Mosin, but I would say to those people that you've missed the point I am striving for. The question that I asked and answered is, how accurate can a Mosin really can be? A set of 3″-4″ 300-yard groups would make me smile with my high-end 308, and doing it with circa 1950 surplus ammo that only costs $100 per 400 rounds is just amazing.
Specs
Mosin Nagant 91/30: Free from a friend (regularly $70-$100)
Bluegrass Gunstocks – Full Tactical Package Gun Stock: $167.99
Rock Solid Industries – Round Receiver Scope Mount: $100
Rock Solid Industries – Bolt Handle Welding Services: $50
Rock Solid Industries – Bedding Pillars & Hex Action Screw: $20
Timney Trigger – Mosan Nagant Match Trigger: $94.99
Bushnell 5-15X LRS Tactical Elite 40mm Mil-Dot Scope: $449
Pacific Tool & Gauge 308 11 degree crowning tool: $66
Approximate Total: $1047.98
Read more at alloutdoor.com